When it comes to the current fashion for hemlines, the longer they are, the better.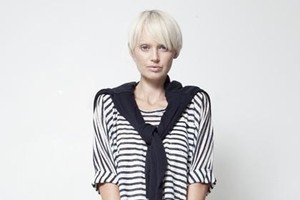 When times are good, so the old adage says, hemlines go up. In that case, times must be very, very bad - because the way to wear your skirts right now is very definitely Below the Knee. It's a trend that has been on the periphery of the high street for some time, as well as on the catwalks of those discerning designers who deal in thought-provoking and intellectualised silhouettes. Now, though, everyone's getting in on the act and there are plenty of interpretations to choose from.
"My favourite long skirts of the season were at Lanvin," says Miranda Almond, fashion editor at British Vogue.
"I also loved the way Richard Nicoll used the new longer length with his pleated midi-length white skirt, and the hopelessly romantic tulle overskirts at Chloe, that were light as a feather and looked so pretty to wear."
From Grecian to gothic, there were long skirts aplenty at the international collections - and long doesn't necessarily mean trailing-on-the-floor or getting-caught-in-your-bicycle-spokes.
"The long skirt emphasises the full length of a woman's silhouette," says British designer Marios Schwab, whose rock 'n' roll collection this season included toughened-up Grecian drapery, "and evokes a new visual of sophisticated sexiness."
There are mid-length cuts, hitting calves halfway between the knee and ankle; there are slim-fit tube skirts, as well as voluminous numbers; there are A-line versions that fall to just under the knee. What there aren't though, are the great swathes of thigh that we associate with summer dressing, the micro-minis and the hot pants, the other terrifyingly unwearable staples of hot weather and cool kids. Something has changed in the fashion consciousness.
"Long skirts have a long history to do with modesty and status," explains Caroline Evans, professor of fashion history at London's Central Saint Martins. "There was an increased focus on legs before World War I, with skirts designed to be seen in motion. Then, in the 20s, skirt length was linked to women being more active, with sport and dancing."
The long skirt has, understandably enough, gained something of a reputation for being for fuddy-duddies - a bit droopy, a bit (apologies here) "art teacher". If the Flappers didn't want to wear them, then why on earth should we, as liberated and sassy modern women?
Because they're every bit as provocative and directional as a flash of ankle or a miniskirt was in its heyday. Try picturing Katie Price in a long skirt, or anyone on Strictly Come Dancing, for that matter.
And then there's the fact that many catwalk stylings saw the long skirt paired with things that were decidedly drab, such as sloppy jumpers or cropped retro knits - in the case of the Jil Sander show, vivid, jewel-coloured skirts were worn with plain white T-shirts, of the sort you might normally wear to the gym, or to bed. This new trend is no high-octane glitz, Baden-Baden maxi-dress revival.
"I've always loved longer skirts," says designer Kinder Aggugini, "so I draped a full tail that would open and inflate with a fast walk and rest softly when motionless."
From full and colourful cotton at Marc Jacobs to dramatically slit monochrome at Ann Demeulemeester, current versions are more grungily casual than previously, less whimsical and attention-grabbing.
"I like dressing it down with a simple T-shirt or loose silk shirt for an easy, relaxed feel," says Vogue's fomer fashion director Kate Phelan who is now based at Topshop. "Long skirts can be practical but also very stylish - just keep it simple and wear them like you wear your jeans for day."
They're also, contrary to popular myth, easy to pull off, regardless of shape and stature.
"If you're petite, go for an A-line midi," adds Miranda Almond.
"If you're curvy, choose a more drapey fabric - they're incredibly flattering to wear, especially for anyone worried about their shape, and make you feel covered yet fashionable."
For anyone less than Amazonian, a platform wedge is both current and convenient when it comes to puddles; meanwhile, a mid-length skirt will look both preppy and chic worn with rolled-down socks and flat brogues.
"Team a long skirt with a wedge," counsels founder of my-wardrobe.com Sarah Curran, "and then nip in the waist with a belt for a more defined shape.
"Throw on a white blazer for a chic, sophisticated workwear look."
Longer-length skirts have been confined to the fashion hinterland for so long that there is a generation of young women who haven't even tried them out.
"It's fun to wear something you've never worn before," says Caroline Evans.
"Fashion is defined by rapid style changes. It never stands still - so after the mini comes the maxi. After all, nothing is less fashionable than the recently out-of-fashion."
- INDEPENDENT