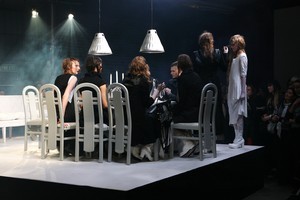 There are changes afoot at New Zealand fashion's most high profile event - a new date (because of the Rugby World Cup), a new venue, and a few new names showing.
The designer line-up for New Zealand Fashion Week 2011 is set to be officially announced this weekend, but interviews with various designers have revealed there will be some new names as well as some notable absences.
One of the most exciting additions to the schedule will be the return of Workshop and Helen Cherry, who last showed at Fashion Week in 2005.
Other fashion designers and brands who say they are confirmed to showcase their winter 2012 collections include World, Zambesi, Trelise Cooper, Sabatini, Starfish, Andrea Moore, Hailwood, Juliette Hogan, Annah Stretton, Salasai, Twenty-seven Names, Ruby, Jimmy D, Stolen Girlfriends Club, Blak Luxe, Huffer, Neverblack, and Kathryn Wilson.
New designers who will make their fashion week debuts include Ingrid Starnes, Celine Rita and Christchurch-based label Mister.
There are several notable names who won't be showing however.
Nom.d won't be putting on a show this year, due in part to the date change and the Christchurch earthquakes that affected designer Margi Robertson's CBD boutique Plume.
Robertson and her team have shown at every NZ Fashion Week since it began in 2001, and while she says it will be hard for her on a personal level, it is a pure business decision not to do a show this year.
She does hope to have some level of presence, however, but added: "If there is a year where we sit it out, this is the year."
Kate Sylvester also isn't planning to show at this stage, and Wellington-based designer Alexandra Owen hasn't committed to a show either.
Designer Cybele Wiren, who has shown at every NZ Fashion Week since 2003, is another high profile designer not taking part this year, albeit for a very good reason: she is about to have a baby.
* New Zealand Fashion Week 2011 will be held in Auckland from August 29th - September 2nd.