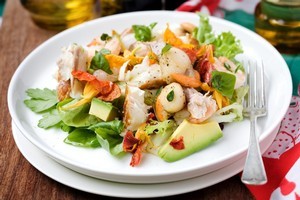 Serves 4
scallops
prawns
avocado chilli oil
smoked fish
avocado
salad greens
nasturtium flowers
salt and pepper
juice of a lemon
1 Pre-heat the barbecue. Brush the scallops and prawns lightly with the avocado oil, season and cook for a couple of minutes or until just done.
2 Break up the smoked fish into bite-size pieces.
3 Slice the avocado. Put all the salad ingredients into a bowl, taste for seasoning and lemon juice, add more if necessary. Toss gently and plate.