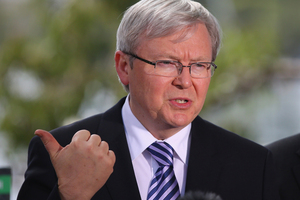 Last month, in the vast, remote Culgoa River region of New South Wales, the People's Council of the Murrawarri Republic assembled for the first meeting of what it claims is a sovereign state separate from the Australian federation.
Declaring independence as a right of their thousands of years of continuous occupation and the lack of a treaty or deed of cessation, they detailed their claim in letters to the Queen and the federal Government. Neither has replied.
The Murrawarri People's action, part of a nationwide campaign for sovereignty co-ordinated by the activist National Unity Government, is at the extreme edge of indigenous politics. But it underscores a deep mood of disenchantment and anger that will be felt at the September 7 election. There are relatively few votes from indigenous policy.
Last night's final debate between Prime Minister Kevin Rudd and Opposition Leader Tony Abbott, focused on the economy, jobs, education, paid parental leave and Rudd's leadership return. After the last debate's sharp "shut up" line, Abbott got in another dig at Rudd with "I'm going to try not to waffle".
Abbott at one point said: "If his management of the global financial crisis was so outstanding, why did his own party sack him in June of 2010?"
Rudd came back with: "I think Malcolm Turnbull's had a few chips at you over the years as well, mate."
Abbott said the best way to deal with the Labor Government was to put them in opposition. "I think that way they'll learn who they represent and who they stand for much better."
In the election an indigenous backlash could cost Labor at least one seat, with others potentially affected in marginal seats in western Sydney and Brisbane.
Both main parties have strong indigenous policies that include significant areas of agreement. Abbott, especially, has been emphasising his interest in Aboriginal and Torres Strait Islander affairs.
"As long as I am in public life, I will continue to spend a week a year in a remote indigenous community as I've done over the past decade," he said in his campaign launch. "Because if they're good enough for people to live in, they should be good enough for a Prime Minister to stay in."
Labor has for the first time placed an indigenous candidate in a winnable position. If Olympic gold medallist Nova Peris wins, she would be the first indigenous woman elected to federal Parliament. There have been few enough indigenous MPs: the late Liberal Senator Neville Bonner, Democrats Senator Aden Ridgeway and, briefly, Liberal Ken Wyatt in the Lower House.
Yet the problems facing Aborigines and Torres Strait Islanders are immense, consuming billions of dollars a year and posing serious social and moral dilemmas. Indigenous Australians are vastly over-represented in most markers of disadvantage - poverty, health, housing, employment, substance abuse, imprisonment.
Nationally, the numbers to really sway outcomes are not there. Outside the Northern Territory, the indigenous population runs at 3 to 4 per cent of the total. Half the 20 seats with the largest indigenous components are regional, held by the Coalition.
But just how many Aborigines and Torres Strait Islander votes will count remains in doubt. Many have not enrolled.
Parental leave costing
* Shadow treasurer Joe Hockey gave a breakdown of the paid parental leave scheme to start in 2015.
* It will cost A$9.8 billion over its first two years, while scrapping Labor's schee will save A$3.7 billion, and abolishingfederal and state government schemes will save A$1.2 billion.
* There will also be a A$1.6 billion saving from "automatic adjustments to government spending and revenue''.
* The remaining A$3.3 billion cost will be more than offset by the 1.5 per cent levy on the country's 3000 largest companies, which will raise A$4.4 billion.
- additional reporting AAP