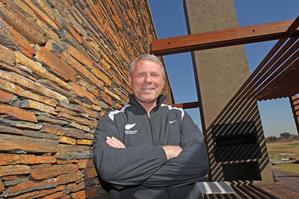 It's more than a handshake. New Zealand Football is doing everything it can to keep a firm grip on Ricki Herbert as All Whites coach - but the best hope is that he doesn't land a job in Britain or Europe.
Herbert wants to stay in the role and NZF have abandoned plans to have a leisurely look around to see who else might be available after Herbert's $50,000 contract ended with the final whistle of the All Whites-Paraguay match.
But if Herbert lands a job in the northern hemisphere, that could scupper the best hopes of both sides.
NZF want to retain Herbert regardless of whether he is coaching offshore. It believes he can juggle two positions, even if he is in Europe, Asia or the Middle East, in the same way he has held down both jobs with the Wellington Phoenix and All Whites for the past three years.
It would be a lot more difficult if he is on the other side of the world but NZF are determined to make it work.
They would insist he negotiates a deal with any new employer, seeing him freed from club duty for Fifa windows and A-internationals. It's similar to the arrangement with the Phoenix, in which the national side took precedence in the off-season and Wellington were the priority during the A-League season.
If Herbert takes over at another club and they refuse to pay him for his time off with New Zealand, it's understood NZF would top-up his salary so he's not out of pocket.
NZF chairman Frank van Hattum has said he has a "handshake agreement" with Herbert, and the man himself said he wants to continue as All Whites coach through to the 2014 World Cup in Brazil. Prior to the current tournament, NZF were going to take their time about appointing the next All Whites coach.
Herbert might well have been their best option, but they wanted to see what else was out there. They also needed time to work out what the role was going to be and whether it would be incorporated into a wider high-performance job.
But the All Whites' stunning achievement in South Africa has convinced them they need to do all they can to retain Herbert. It would be a PR disaster if they weren't seen to be pulling out all the stops to keep a coach who has received widespread acclaim.
While there is a will to make it work with Herbert, the reality could be quite different. If he stays in the A-League, and he still has a year left to run on his present deal with the Phoenix, then little changes from the status quo. The Adelaide job is also vacant, with Aurelio Vidmar likely to join Paul Le Guen at the helm of the Socceroos.
But if Herbert goes to the northern hemisphere, it will be a lot more difficult. English club sides, for example, play as many as 50 games a season and it's difficult to fit international football around this. A club might not be happy to release Herbert, either, especially if it's an important time in their season.
"His stocks are high," Van Hattum pointed out. "It will be no different from some of the players, who will get some wonderful offers. They need to look at what's best for them.
"Ricki has expressed an absolute desire and passion to take the team to 2014 but he has to weigh that up with other offers he gets. I'm sure he's going to get plenty.
"We have a handshake and friendship which will hopefully see the right outcome for Ricki and New Zealand Football."
Herbert was cryptic about his future after the draw with Paraguay. He said it would be up to the "next coach" to plot New Zealand's path to the next World Cup, which some took as an indication that he wouldn't be that coach. But that's not what he meant.
Herbert loves the All Whites job and wants to continue if he can. He has taken great pleasure from the team's success but is also ambitious and realises this is his time if he is to coach offshore. His stocks aren't likely to be any higher than they are now.
Herbert might yet stay in Wellington and would need Phoenix owner Terry Serepisos' support to continue as All Whites coach.
Serepisos has wanted Herbert to concentrate on club duties but it might be difficult to persuade both Herbert and the public that both jobs can't be done.
"If a club says I can't do [both], then I have to make a decision," he said. "Frank is here and we have had some discussions. There have been agreements in some areas. Those conversations will continue. My focus has been the World Cup but one would hope the results haven't harmed my cause."
Offers have been forthcoming - even before the World Cup - and New Zealand's record in South Africa hasn't gone unnoticed.
He was even talked about as a potential candidate for the Socceroos job but the Football Federation Australia prefers more high-profile candidates and were concerned about his lack of experience.