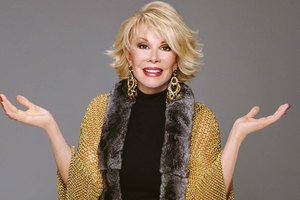 Comic Joan Rivers has come under fire for comments she made about Jews during a segment on her controversial US style show Fashion Police.
The veteran funnywoman, whose parents were Russian Jewish immigrants, critiqued a dress worn by German supermodel Heidi Klum during Monday's episode of the E! series.
"The last time a German looked this hot was when they were pushing Jews into the ovens,'' she said.
The remark, in reference to the Jewish people that were killed in concentration camps by Nazis during the Holocaust, has upset leaders of the Anti-Defamation League, who are now demanding an apology from Rivers.
The league's director Abraham H Foxman, a Holocaust survivor himself, says:
Of all people, Joan Rivers should know better.''
"This remark is so vulgar and offensive to Jews and Holocaust survivors, and indeed to all Americans, that we cannot believe it made it to the airwaves. Almost as bad as her original comment is the fact that she sat there doubled over with laughter after saying it.
"There are certain things about the Holocaust that should be taboo. This is especially true for Jews, for whom the Holocaust is still a deeply painful memory.
"It is vulgar and offensive for anybody to use the death of six million Jews and millions of others in the Holocaust to make a joke, but this is especially true for someone who is Jewish and who proudly and publicly wears her Jewishness on her sleeve.''
- BANG! Showbiz