Disgruntled fans have slammed the new-look Top Gear, calling the show's new presenters "cringe" and labelling host Chris Evans a "poor man's Jeremy Clarkson".
The first episode of the revamped Top Gear aired in the UK overnight with fans eagerly awaiting to see the team start their engines after much-loved old presenters Jeremy Clarkson, James May and Richard Hammond left the show.
Read more: New Top Gear team to film in New Zealand
Since Chris Evans took the wheel from Clarkson, it seems the BBC's motoring show has been the centre of an almost continuous flow of controversy - tales of producers quitting, cast and crew rowing and celebrity guests pulling out have put the series in jeopardy.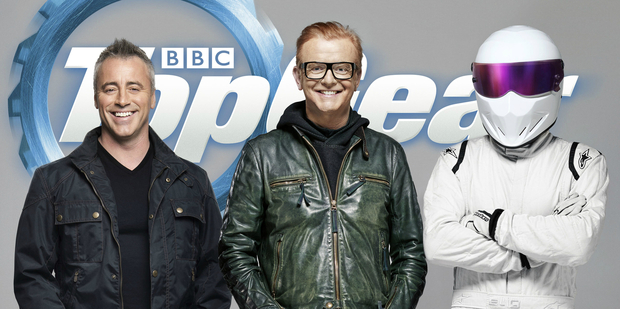 The show's production hit another bump as fans slated the first episode before it had even finished.
Viewers repeatedly panned co-host Evans, telling him to calm down and stop shouting and making the hashtag #TopGear trend on Twitter.
Made a list of everything wrong with new #TopGear pic.twitter.com/8JCScI4HEb

— Josh (@JoshRae15) May 29, 2016
Is it possible to sue @achrisevans for hearing damage? Stop shouting at me you incessantly irritating man #TopGear more like #FlopGear

— Ellie Jones (@elliejones) May 29, 2016
Chris. Please. Stop. Shouting. #TopGear

— Louis Karsenbarg (@LouisKarsenbarg) May 29, 2016
RIP #TopGear, you will never be missed pic.twitter.com/deHbanbqoz

— S. (@lmaosimon) May 29, 2016
Anyone who just watched the new #TopGear and thought it was good needs a brain transplant. Absolutely diabolical. #RIPTopGear

— Ellis (@Littlin_) May 29, 2016
The new #topgear resembles a 4th generation Subaru Impreza Turbo. A faint facsimile of something that was fun and relevant a decade ago.

— Paul Colgan (@paulcolgan) May 29, 2016
Top Gear bosses wanted the show to be more dramatic and kicked off the episode with Evans taking a Dodge Viper ACR to Naval Air Station Fallon in Nevada to battle fellow presenter Sabine Schmitz in a Chevrolet Corvette Z06.
After this pulse-racing start to the show, Evans and LeBlanc perhaps slipped into a lower gear - by starting their first challenge of the new series.
The pair were seen racing up to a wet and windy Blackpool in a pair of Robin Reliants, with LeBlanc's three wheel van emblazoned in America's Stars and Stripes and Evans' covered in the Union Flag.
However, the show started with just a taster of the action before heading to showcase a brand new segment.
Ill-tempered celebrity chef Gordon Ramsay and Jesse Eisenberg climbed in a suped-up Mini Cooper as part of the show's new Star In A Rallycross Car part of the show, replacing the popular Star In A Reasonably Priced Car.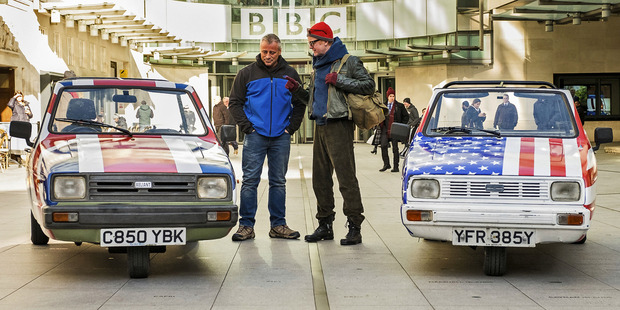 Ramsay and Eisenberg, the latter filling in on the show after Brad Pitt pulled out due to scheduling issues, took to the new track tearing through new obstacles including off-road sections, a water splash and a jump.
Foul-mouthed chef Ramsay completed his lap in 1min 56.3 secs while Hollywood star Jesse managed 2min 10.9secs.
After the celebrities were put through their paces, LeBlanc jumped behind the wheel of a Nomad dune buggy and raced it around rugged terrain while reviewing the motor and at one point even comparing one of its attributes to 'your mother's g-string'.
He also played on the Lothario persona he entertained audiences with while playing Friends favourite Joey Tribbiani, by comparing driving the Nomad to the 'most fun you can have in a car without taking your clothes off'.
LeBlanc then wanted to test whether the £33,000-Nomad was the world's best all-terrain vehicle by beating a team of paparazzi who were using different modes of transport.
One snapper would be chasing the presenter on a dirtbike, another would use a camera drone and the third would be flying through the air in a light aircraft - with the aim to get a clear shot of him.
It appears the presenter is in danger of losing the challenge when he gets stuck behind a white lorry, but thankfully it is driven by the show's racing extraordinaire The Stig who lowers down a ramp for LeBlanc to race up.
After the LeBlanc's off-road exploits the show returned to Blackpool where Evans and his American co-star continued their battle, this time racing a World War II US Army Jeep against a British LandRover from the same era.
The pair took turns racing along the Blackpool sea-front as rain lashed down, as well as taking part in a tug of war and the finale of the challenge which featured them racing across the beach, towing an ice cream van and picking up a drag queen.
The challenge then took the presenters to the Lake District where they had to use their off-road military vehicles to pull their Robin Reliances with LeBlanc being helped out by strongman Nick Best and Evans by triathlete Edward Brownlee.
* Top Gear starts on Prime Television on Sunday June 5 at 7.30pm.