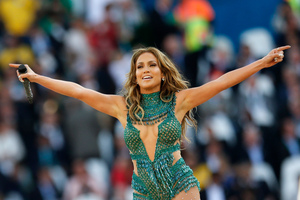 Jennifer Lopez is nursing a wounded knee after injuring herself onstage over the weekend.
The On The Floor singer was performing an energetic dance routine for the remix of her track I'm Real at the iHeartRadio Ultimate Pool Party in Miami, Florida on Saturday when she dropped down to her knees and suffered a gash in the process.
Blood began seeping through her nude fishnet tights but Lopez pressed on with the rest of her show and only later shared the news of her injury with fans on Instagram.com.
She uploaded a snap of the bloody cut after having an adhesive strip, known as a "butterfly stitch", applied to prevent infection.
She also shared another photo of herself pressing a bandage to her knee backstage but added in the caption, "#MyKneeIsFine".
Lopez refused to let the minor cut affect her stage routine and repeated the same move during her show in New Jersey on Sunday.
- AAP