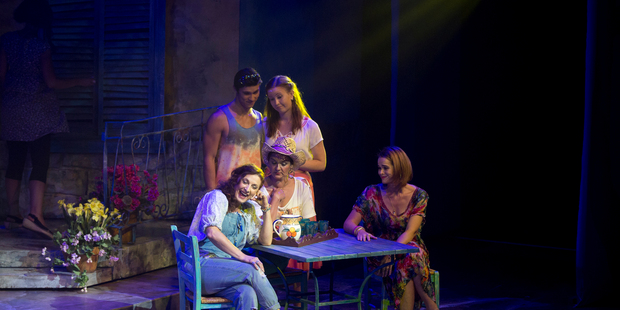 A local re-working of a musical that has achieved world domination is a big ask but Auckland Music Theatre and Amici Productions really hit the mark with a production that is all heart and avoids the trap of trying to replicate the razzamatazz of a mega-budget extravaganza.
The show is anchored around Delia Hannah who displays remarkable vocal prowess and an actor's instinct for honing in on key emotions as she delivers an epic rendition of The Winner Takes It All, while Richard Neame finds a melancholy tone in songs like Knowing Me Knowing You.
At Hannah's side, Jackie Clarke brings an exuberant sense fun to the whole enterprise with goofy physical theatre and a hilarious turn as an aggressive cougar on Take a Chance on Me.
Director Grant Meese has skillfully integrated the drama and dance as Teesh Szabo's simple but effective choreography elicits plenty of sexy sizzle from a young, good looking chorus - with a hugely popular display of male flesh in the iconic flipper & snorkel number.
The sense of enjoyment has also infected the design team who deliver a garish psychedelic dream sequence while John Harding's set offers a picture postcard vision of a village on the Aegean coast.
Amid the froth and frivolity there is some serious social commentary with Catherine Johnson's book setting up an inter-generational conflict that pits the tarnished feminist dream against the younger generation's yearning for simple traditional values like knowing who your father is.
And then there are the songs: Those crazy kids from Stockholm sure knew how to put together a pop song. Their melodic hooks insert themselves in the primal recesses of the subconscious and the seemingly vacuous lyrics are precisely engineered to stir up our most deeply felt emotions.
Whatever you experienced in the seventies it will all come flooding back in euphoric swirl of lycra, white satin, mirror balls and platform heels.

Mamma Mia! runs at the Civic until March 23.