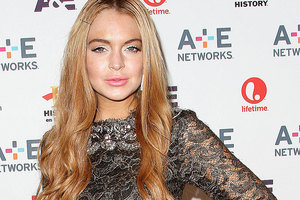 Lindsay Lohan partied until the early hours just one day after being treated for exhaustion.
The Liz & Dick actress went straight to the Chateau Marmont in Los Angeles on Saturday after spending the day filming the TV biopic and didn't leave until after 1am even though paramedics were called to her hotel room the day before when she passed out from exhaustion.
An eyewitness told US Weekly: "For someone so exhausted, it was shocking to see her out past 1am."
Lindsay partied with Pretty Little Liars actress Ashley Benson, Cougar Town's Busy Philipps and Haylie Duff, sister of her former arch rival Hilary Duff and a group of five men.
Lindsay, 25, was found "unresponsive" in the penthouse of the Ritz-Carlton in Marina del Rey, California on Friday morning and was said to be suffering from exhaustion after working 85 hours in four days on the TV movie Liz & Dick.
However, she played down the incident and even joked about it on Twitter.
She wrote: "Note to self. After working 85 hours in 4 days, and being up all night shooting, be very aware that you might pass out from exhaustion & 7 paramedics MIGHT show up @ your door ... Hopefully they're cute. Otherwise it would be a real let down."
-Bang! Showbiz