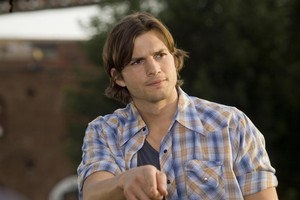 Ashton Kutcher may have committed a federal crime in the US by failing to disclose investments in internet companies profiled in a magazine he edited, according to the New York Times.
In addition to appearing on the cover of Details' September issue, Kutcher also created and edited a special "online only" version of the magazine.
A series of profiles on "The New Titans of Tech" showcases some fast-growing technology start-ups but fails to make it clear that Kutcher is an investor in a majority of them, including Foursquare, Flipboard and Airbnb.
Of the 12 products Details recommends in "Generation Next... a guide to the emerging tools transforming the way you live", eight are his investments, and at least two others have business connections with Kutcher.
Kutcher also promotes a site called Fashism in the issue, which he invested in, and Katalyst Media, which he co-founded.
The only reference to Kutcher's investments is is a line in the editorial that says he "puts his money where his mouth is, backing many of the companies he champions here.'
Richard Cleland, assistant director of the division of advertising practices at the Federal Trade Commission, told the New York Times that Kutcher had an obligation to disclose his investments.
"If you're out there promoting individual products that you have a specific investment in, it needs to be disclosed," Cleland said.
"If you have a significant economic investment that is not otherwise apparent, that may potentially affect the credibility of your endorsement, and I see that as a potential problem."
Cleand believes it is "certainly a possibility that a case like this could be investigated".
Editor-in-chief of Details said "I stand by how we communicated Ashton's involvement with some of the companies included in our coverage and remain extremely proud of the work we did on this project."
"I can assure you that Ashton is not looking at our 500,000 readers as an opportunity to feather his nest."
Kutcher has nearly 7.5 million followers on Twitter and regularly mentions companies he has invested in there.