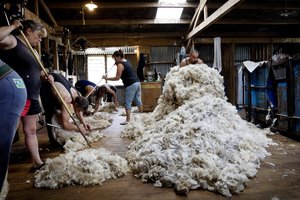 Export commodity prices continued to rise last month, but with dairy prices taking a back seat for a change.
ANZ's commodity price index rose 1.3 per cent, its fourth successive monthly increase.
The index, which reflects world prices for a basket of export commodities, is now at its third-highest-ever level, only 1.8 per cent off its record high of last April.
Wool prices rose 10 per cent to a 22-month high, while beef, aluminium, butter, pelts and wood pulp all increased 3 per cent.
Whole milk powder prices lifted 2 per cent but skim milk powder fell 2 per cent.
Kiwifruit eased by 2 per cent and apples by 1 per cent.
The New Zealand dollar strengthened relative to the currencies of all the country's main trading partners last month, with the result that the ANZ index fell 0.6 per cent in local currency terms.
Nevertheless, in New Zealand dollar terms the index remains high by historical standards and is only 6.9 per cent below the all-time high measured last March, says ANZ economist Steve Edwards.