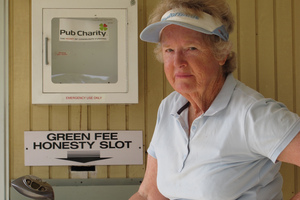 The theft of a life-saving heart-starter has outraged members of a Northland golf club.
The high-tech defibrillator, which is used to deliver an electric shock to re-start a stopped heart, was stolen from the Bay of Islands Golf Club in Kerikeri.
It was housed in a purpose-built box on the wall of the club's pro shop where it could be accessible at all hours, even when the shop, office and clubhouse are closed. The box is alarmed but not locked.
Club secretary Stella Saaristo said the defibrillator cost about $3600 when it was bought with a Pub Charities grant in 2010. While it was insured the club would still have to pay the $500 excess.
The defibrillator had never been used but the club was anxious to replace it quickly in case it was needed in an emergency.
The make is Zoll and the model AED-plus.
Mrs Saaristo said many club members were in their 60s with some well into their 80s, so it was vital to have the defibrillator on hand. "I think it's an unconscionable, mindless action, without a care for anyone else.
"And what on earth good is a defibrillator going to be to them?"
Mary Kay, a club member for 36 years, said she was very annoyed by the theft.
"Having a defibrillator is very important. In my age group I'm sure there's a lot of people with heart trouble."
Mrs Kay and other club members had had lessons in using the heart-starter even before the club had raised the money.
Two more training sessions since then, led by St John medics, had been attended by up to 40 members each time.
Police Sergeant Peter Masters said the defibrillator was taken sometime between 1 and 4pm on Saturday, April 20.
The offenders may not have realised what it was or mistaken it for something else.
He urged anyone who knew who had taken the machine, or where it was now, to call the Kerikeri station on (09) 407 9211. Anonymous tips could also be passed to Crimestoppers on 0800 555 111.
The club is offering a reward for the defibrillator's return or information leading to its recovery.
For more articles from this region, go to Northern Advocate