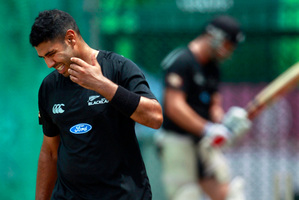 The New Zealand Cricket community is being encouraged to rally behind rather than castigate a tormented Jeetan Patel in the wake of his boozy night during the recent New Zealand XI v England warm-up match in Queenstown.
Patel headed out with his friend Daniel Vettori. He suffered mild concussion when he fell over and hit his head during the evening when alcohol was drunk.
The pair have become close and the former New Zealand captain was offering his support during what has been a tough period for Patel.
He has been widely panned for backing away from pace bowling and bowled ineffectively during the South African series. On arriving home from the tour, he learned his mother had become unwell while holidaying in India. Within 24 hours Patel and his father flew to see her but she died of an aneurysm.
The Herald understands Patel has since been trying to help his father with the family Lotto shop in Wellington.
Vettori and other friends have come to Patel's aid as he tries to cope with the grief. The pair headed out for a few drinks. After knocking his head Patel returned to the team hotel but was sober enough to realise he felt ill and went to hospital.
The issue has been compounded by confusion over what was wrong with Patel on the second day of the four-day match. When Radio Sport commentator Steve Davie asked why Patel was not on the field he says he was told by manager Lance Hamilton, in a conversation heard by other New Zealand XI personnel, that he "had the flu".
The Herald contacted Hamilton during Central Districts' fielding warm-ups yesterday after Jamie How's record 222 at Seddon Park. Hamilton declined to comment, saying: "I don't really want to be associated with the issue."
It seems there may have been an effort to protect Patel and his difficult personal circumstances on the day.
A NZC spokeswoman says at no point did anyone lie.
"I've spoken to the management team of Bob [Carter], Paul [Wiseman] and Lance [Hamilton] and it's my understanding no one said Jeetan had a virus as has been claimed elsewhere."
Aggravating the issue has been another alcohol-related incident when Doug Bracewell cut his foot on glass after a party at his Napier flat. He has been ruled out of the first England test but is expected to be right for the second.
He told New Zealand Cricket Players Association boss Heath Mills and New Zealand manager Mike Sandle he had "a couple of beers" and wasn't drunk during a gathering last Friday night to watch Super 15 rugby at his house. He said the accident happened the following morning cleaning up.
Coach Mike Hesson has denied there is a drinking culture within the New Zealand set-up and stressed both incidents happened outside the national team environment. However, it means the team's professionalism will continue to be under the microscope.
- APNZ