Tests will show if lessons from Cape Town and Port Elizabeth have been absorbed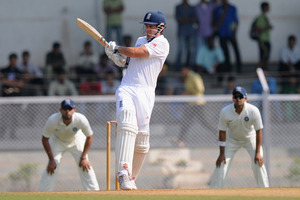 As they assessed the wreckage of New Zealand's two tests against South Africa last month both captain and coach made a similar observation.
Brendon McCullum and Mike Hesson hoped lessons would be absorbed by their players, and both offered the thought that it would be silly to chuck the underperforming players on the scrapheap in the search for a competitive outfit to face England.
To do that would to a degree have wasted the trip, and the experience, they said.
"If people are applying themselves and showing character, then we'll show faith in them. If you keep chopping and changing, we'll go around in circles," Hesson said after the innings and plenty of doffing of caps in the Port Elizabeth duffing.
Before the tests, New Zealand had lost the T20 series 2-1; after it they won the ODI rubber by the same margin. Thus they returned home feeling rather better about themselves than they did around lunchtime on January 14, the fourth day of the second test and by which time the match was finished.
There's a frying pan and fire thought about the England tour which starts in Whangarei on Monday with the first of two T20 warmups ahead of the ANZ international series.
South Africa are top of the test tree, experienced, resilient, tough-minded cricketers at the peak of their powers, yet they were caught short in the 50-over series. England sit second, in the test and ODI versions, and fourth in T20. New Zealand are a uniform eighth across the board.
No contest? Not quite so fast.
Granted New Zealand have a mountain of toil to do in the test game.
"We're a long way off the pace in test cricket, we have to acknowledge that, and we know we have a lot of work to do," Hesson said.
South Africa showed up the batting to be technically deficient. Ross Taylor would have improved things, but not to a result-changing degree.
The bowling lacked enough penetration. The absences of Tim Southee and Dan Vettori, for different reasons, was keenly felt.
England have considerable batting depth. Captain Alastair Cook (world ranking 5), Kevin Pietersen (10), Jonathan Trott (14), Matt Prior (15) and Ian Bell (16) far outshine all New Zealand batsmen with the exception of the returning Taylor (8).
James Anderson (6), Graeme Swann (7), Stuart Broad (13) and Steven Finn (16) stand clear of New Zealand's best, Chris Martin (17), Southee (21) and Vettori (22).
So in terms of achievement and form, there's a gulf. Of the test venues, Dunedin's University Oval should help the seamers; the Basin Reserve is usually a top class cricket strip, with something for industrious seamers and batsmen; while Eden Park, on its return to the test card after a seven-year absence, will on this season's evidence provide plenty of fat-edged sixes, courtesy of good bounce and ludicrously short straight boundaries.
Take no notice of the statistics on the T20 clashes between the two. These are games which can be won by a couple of decent performances.
England have a host of relatively new names but in Michael Lumb and Alex Hales they have a couple of top order fliers, Luke Wright is an accomplished short-form player while Eion Morgan is among the best finishers in the business.
New Zealand have, in Martin Guptill, captain McCullum, his brother Nathan, Taylor, James Franklin and lively new seamer Mitchell McClenaghan, a group of their own with match-winning capabilities.
While England are looking at developing newer players in the T20, the ODI leg brings the heavy mob back, with Cook in charge - Stuart Broad has the shortest-form reins - and Anderson, Trott, Bell, Swann and Trott shipping in.
Even so, tipping over South Africa - even a flaky, transitional 50-over South Africa in back-to-back matches, and coming within one ball of a clean sweep - must give New Zealand heart that they can match up.
Most attention on the home side will focus, inevitably, on Taylor.
He has decisively won the public relations battle over his dumping as skipper, although that wouldn't have been hard after New Zealand Cricket's ineptitude over the captaincy saga before Christmas. Theirs was a case study in how not to handle delicate matters of man management.
It may be there will be several in the dressing room who'll struggle to look him in the eye, too, for all the denials players had anything to do with his treatment.
How he meshes back in will be an important ingredient in whether New Zealand can present a united front.
Taylor also needs to score runs, and having absented himself from the South African tour - whatever the justification, and the rights and wrongs of that decision - has some catching up to do.
So call the T20 and ODI series close, perhaps one rubber apiece.
Which leaves the tests. And it is there we'll discover how well those lessons from Cape Town and Port Elizabeth have been absorbed.
South Africa was a furnace. At least now New Zealand are in their own conditions.
They'll start second favourites, but if they can arrive in Dunedin next month having had some success to bolster self esteem, they should be up for the contest.
And that in turn would suggest McCullum and Hesson's words may have struck a chord.
England: The big 5
Alastair Cook
Age: 28
Test record: 87 tests, 7117 runs at 49.42, 23 100s
From the time he hit an unbeaten century on his test debut against India at Nagpur seven years ago, the lefthand opener hasn't looked back.
Even before that, actually. He seemed destined for the top from the time he left high school. The England under-19 World Cup skipper, Cook took over the national captaincy from Andrew Strauss permanently last year and he's presided over four test wins and just one loss.
His three centuries against India shortly before Christmas both reinforced his standing as the country's leader, and also made him England's alltime highest test centurymaker.
Throw in 2328 ODI runs at 40.13 for good measure. New Zealand have done well against him - he's only passed 50 twice in 10 test innings - but the world's No 5-ranked batsman looms as the key wicket in a classy batting lineup.
Jimmy Anderson
Age: 30
Test record: 77 tests, 288 wickets at 30.39
When he's on song, Anderson is the best swingman in the business. Anderson, who did a brief stint with Auckland before the last English visit in 2007-08, should present a different but no less demanding examination of New Zealand's batsmen than Dale Steyn and Vernon Philander a few weeks ago.
Anderson took 11 wickets in his first two tests 10 years ago, but he went through a hot and cold period for a time.
The Burnley-born fast-medium bowler shot out New Zealand's top five batsmen to help set up victory in Wellington five years ago and has taken 27 in five tests against New Zealand. His 24 wickets in the Ashes series of 2010-11 were instrumental in that retaining of the urn and Anderson is now, ranked world No 6, the undisputed leader of the attack.
His early up and down years have been replaced by a steadiness and demanding line. He's nabbed 222 ODI wickets in 164 games too, and is a top class fielder.
Graeme Swann
Age: 33
Test record: 50 tests, 212 wickets at 29.13
The seasoned offspinner spent 10 years trudging about the county circuit before getting his test opening - then took two wickets in his opening over at Chennai in December 2008.
He's come on apace since. His 59 wickets in the last calendar year were second by one wicket behind tubby Sri Lankan spinner Rangana Herath and his 54 in 2009 was the first time an English spinner had taken 50 in a year.
Swann had a reputation for a certain swagger in his earlier years and he remains one of the livelier tourists. Nicknamed 'Chin', he's taken 98 ODI wickets in 73 matches; 51 in 39 T20s, demonstrating his adaptability. Only the outstanding left armer Derek Underwood, with 297, has more test wickets by a spinner for England.
Kevin Pietersen
Age: 32
Test record: 92 tests, 7414 runs at 49.42, 22 100s
Where to start. One of England's cast of South African imports, Pietersen is among the game's most brilliant batsmen but a polarising figure among even the England faithful.
The Pietermaritzburg-born Pietersen hit three centuries in one ODI series against South Africa to kickstart his career, before making a match-saving - and Ashes-sealing - 158 at The Oval in 2005.
His batting is full of dash and verve, although his troubles against left arm spinners might not be put under severe scrutiny should Dan Vettori not be fit in time for the three tests.
Pietersen had a brief spell as England captain in 2008 but that ended after he tried to engineer the dumping of coach Peter Moores and found himself red-carded along with the coach.
He was dropped against South Africa last year after the unseemly texting episode, in which he sent uncomplimentary messages about his then-captain Andrew Strauss to his former countrymen.
However, Strauss has retired, Pietersen has been rehabilitated, pragmatism won out, but you'd wonder how many of his teammates really feel the love for the tall righthander.
Matt Prior
Age: 31 on February 26
Test record: 62 tests, 3326 runs at 43.19, 6 100s
Does Johannesburg-born Prior or India's captain MS Dhoni deserve the gong of best wicketkeeper-batsman in the game? Their numbers are fairly similar: Dhoni's batting average is 38.06 with five hundreds from 73 tests.
Prior hit a century against the West Indies on debut at Lord's six years ago, the first English gloveman to achieve that feat, but dodgy glovework effectively cost him a year of test cricket, including the last tour of New Zealand.
He smashed a window in the Lord's dressing room two years ago after being run out against Sri Lanka, showering spectators with broken glass, for which he was forced to apologise.
He had batted at No 6 in the England order in 12 tests, averaging 45.6 and to all intents England will field seven quality batsmen in their lineup.
Had a lippy reputation early on but while his limited-overs place has gone to others, with his handling more assured he's undisputed No 1 in the premier version.
England tour schedule
Feb 4: T20 v New Zealand XI, Whangarei, 5pm
Feb 6: T20 v New Zealand XI, Whangarei, 2pm
Feb 9: First T20, Eden Park, 7pm
Feb 12: Second T20, Hamilton, 7pm
Feb 15: Third T20, Wellington, 7pm
Feb 17: First ODI, Hamilton, 2pm
Feb 20: Second ODI, Napier, 2pm
Feb 23: Third ODI, Eden Park, 2pm
Feb 27-March 2: v New Zealand XI, Queenstown, 10.30am
March 6-10: First test, University Oval, Dunedin, 10.30am
March 14-18: Second test, Basin Reserve, Wellington, 10.30am
March 22-26: Third test, Eden Park, 10.30am
New Zealand v England
Tests Overall: P 94, Won 8, Lost 45, Drawn 41
In NZ: P 44, Won 4, Lost 18, Drawn 22
ODIs
Overall: P 70, Won 35, Lost 29, Tie 2, N/R 4
In NZ: P 34, Won 17, Lost 13, Tie 2, N/R 2
T20
Overall: P 6, Won 1, Lost 5
In NZ: P 2, Lost 2.