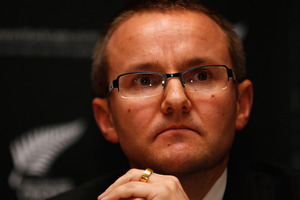 New Zealand coach Mike Hesson has lambasted the International Cricket Council over its handling of super overs in World T20 matches as well as the dead ball law when a bowler breaks the stumps in his action.
Such incidents cost New Zealand in each of its Super Eights games. They tied with Sri Lanka and the West Indies, resulting in a special match of One1, while England bowler Steven Finn's stump-breaking farce saw New Zealand docked six runs.
There is no guarantee they would have won the England match with the extra runs, while the shared points from the ties would still have seen them miss the semi-finals. However, it would have changed the dynamic of the group.
New Zealand has received the Spirit of Cricket award four times in nine years at the annual ICC awards functions - the equivalent of highly commended - and rarely speak out about things that hinder them. It is seen as "the Kiwi way''.
Hesson has opted for a refreshing tack to combat injustices to his team, backed by sound justification.
"I can't work out why, in a non-elimination game, you need a super over,'' Hesson says.
"I have also never worked out how you can kick the stumps over and get a benefit. If that doesn't change they [the ICC] have got rocks in their head.
"I'm not sure how they came to that conclusion. Basically we [all coaches and captains] came to a meeting pre-tournament and they told us what was happening. There wasn't a discussion.
"I don't blame Steven Finn but they've made one rule for one person. He also did it once [for a warning] but not twice against Sri Lanka. It would have been interesting to see the response if they had hit a boundary.''
Finn's stunt became tiresome by its third occurrence against New Zealand when James Franklin timed a ball through the covers for four, only to have it retracted.
Hesson argues the law should never penalise the batting side, as it does currently.
The law says the first time such an accident occurs should be exonerated; any subsequent stump upsets result in dead balls.
The ICC logic was that it helped the batsman because of the supposed distraction any dismantling of the opposing stumps creates during delivery. Franklin's four helps extinguish that theory, and it could have been made worse if he'd hit the boundary during the death overs to win the game.
Former New Zealand captain Daniel Vettori backed Hesson's assessment.
"You shouldn't be able to penalise the batsman for a good shot because then people start figuring out ways to kick the stumps down if they don't think it's a good ball.
"I can understand the rationale to penalise the bowler but there has to be balancing act. Maybe if it's wicket it's a dead ball, but if someone hits a four it seems unfair because obviously it hasn't distracted the batsman. It's quite demoralising, especially against a guy like Finn who bowls so quick. It changes the complexion of an over. A boundary might take you from three to seven off the over with a ball to go.
"I don't think it is right to dead ball it. Officials need to come together and get the right plan.''
* Andrew Alderson flew to the Twenty20 World Cup in Sri Lanka courtesy of Emirates Airline (www.emirates.com/nz)