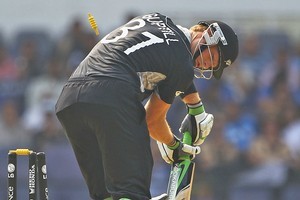 The Black Caps heavy loss to Australia was obviously disappointing but more so was the fact the side didn't seem to have a plan and that players just threw their wickets away.
There were a lot of loose shots, no one seemed to want to bat time and do the hard yards to get a good score which is what they were going to need.
The worrying part about this current team is that the same thing keeps happening. No one has shown they want to bat through the 50 overs and get a hundred.
There is no plan that they're trying to stick to. At the moment there is that much inconsistency that I think people are going to have to start answering questions.
I question what's going on behind the scenes in terms of who is talking to the batters, what plans they are putting in place. Are they putting in plans that they're not listening to or are they just failing to execute them?
Obviously it does fall back on the players but even the coaching staff I'm not hearing a lot from them either.
To me it seems there is no batting plan as such and also batting Jamie How at seven was just silly. He's an opening batter, who should have been at the top of the order if they wanted that extra batsman.
The other selection mistake was leaving experience in the sheds. It sounds like Kyle Mills and Jacob Oram were both fit and to me not to play Mills was wrong. If he was fit he should have been one of the first names put down. Only the powers that be can answer why they weren't playing.
There is no need for any drastic changes they just need to put guys in a position they know.
The biggest problem with the side is that no one is changing their game. Everyone is playing exactly the same way and they look like they're trying to hit their way into form instead of doing the hard yards and take their time.
It's a fact and common sense cricket if you do take your time batting does get easier the longer you're out there.
That's what disappoints me with your McCullums, Guptills and Ryders - they've got all the shots in the book and they are very good players; if they just went out and batted time they would get big scores. But at the moment it looks like they want to be on 50 before they are on 10.
When things are struggling you have got to pull yourself back, bat time and a prime example of that is Sachin Tendulkar's innings against England. He started pretty slow but in the end he was over a run a ball for his 120.
Regardless of last Friday's performance they can still bounce back and reach the quarterfinals and Zimbabwe is the perfect team to play to get back on track.
I would just love them to go out against Zimbabwe and someone just get 100 off 120 balls. Just bat and let the other guys bat around him. Get their confidence back that way rather than going out and trying to smash a quick fire 50.
They need to right put the risky shots in the wardrobe leave them there and bring them out when we are 280 for 4 and it's the last 10 overs.
Cricket has changed but it is still remains that if someone plays through an innings more often or not you'll get a half decent total and usually a winning total.
As we saw you have to get some big totals over there to be competitive, 300 to 280 plus at least, and if they're not going to do that when it comes down to the crunch games then we'll be nowhere in sight.
- Former Black Cap Nathan Astle was talking to nzherald sports editor Cameron McMillan