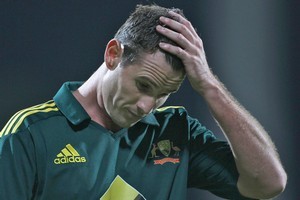 Express paceman Shaun Tait is no certainty to return as Australia again seek a one-day series win against England.
Tait has missed the past two one-dayers with a glute strain and remains in doubt for Sunday's fixture in Brisbane, captain Michael Clarke says.
England on Wednesday night took the scoreline to 3-1 in the best of seven tournament with victory at Adelaide Oval.
Chasing 300 to win, Australia fell 21 runs short in a performance Clarke said underscored the improvement needed by his charges.
Clarke again failed with the bat, bowled for 15 from 27 balls.
"I felt like I gave myself a bit of time, a bit of a chance to see the ball and spend some time out there," Clarke said.
"Again, I felt pretty good, I felt I was hitting the ball okay ... unfortunately I missed one."
Tait and fellow quick Mitchell Johnson (throat infection) missed the Adelaide loss, with the latter appearing more likely to return to action in Brisbane.
"Taity is sort of a day-by-day process to see how he feels," Clarke said.
"I think it's important for Taity, he's going to have to bowl in the nets over the next couple of days to be right for Brisbane.
"I don't think it's smart to just take someone into a game who hasn't done any bowling at all since being injured.
"But I know Mitch bowled again in the nets so he's very close."
Clarke said Sunday's fixture had the added importance of being used to raise funds for Queensland flood victims.
"It's a big game for us for a lot of reasons," he said.
"Obviously with the support for the flood victims and the money we are going to try and raise there, the guys will be feeling a little bit emotional I guess, so it's a pretty special game for us.
"And we'd love to come out and win the series there."
- AAP