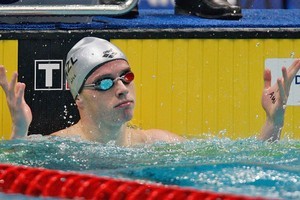 Commonwealth Games silver medallist Daniel Bell may yet suffer more punishment for breaking a New Zealand swimming team zero-tolerance alcohol policy.
He was sent home early from the Games at New Delhi last week after "drinking a couple of beers" after completing his competition programme.
Swimming New Zealand chief executive Mike Byrne today said it had yet to be determined whether Bell, a silver medallist in the 100m backstroke, would face further punishment.
Byrne's comments contradicted Jan Cameron, the organisation's performance and pathways director, who earlier today said no further action would be taken against the 20-year-old swimmer.
"I was surprised by that comment from Jan and I will have to work through that with her," Byrne told NZPA.
"I am in the process of setting up a meeting with Daniel sometime next week," he said.
"There needs to be a formal review of what happened."
The latest incident is the third time Bell has been involved in an alcohol-related incident while overseas with a New Zealand team.
Teammates Dean Kent, Corney Swanepoel and Cameron Gibson were expelled from the New Zealand team and the athletes' village after taking a photo of a drunk Bell sitting on the toilet at a social function at the 2008 Beijing Olympics.
And Bell was last year admitted to hospital in Rome suffering from excessive alcohol intake following the completion of the world championships.
- NZPA