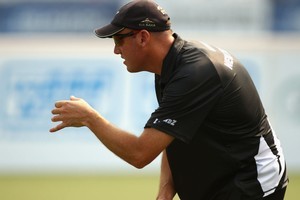 The New Zealand men's triple today kept their fate in their own hands with a straight-sets victory over Brunei at the Commonwealth Games bowls tournament in New Delhi.
The 10-3 result left Andrew Todd, Shannon McIlroy and skip Richard Girvan with a 3-2 win-loss record.
Three playoff spots are up for grabs in each 11-strong section, and Girvan believed there were eight teams in New Zealand's group who were in contention to go through.
"It's going to be a hard road for us, but we're not out of it," he said.
"We still have our destiny in our own hands and it's a good place to be."
Girvan was particularly pleased that at his triple's ability to bounce back from the disappointment of a tie-break defeat to South Africa last night.
They were to face Niue this afternoon before having a key encounter against Scotland in the following round.
"We want to go out and get both sets against Nuie," Girvan said.
"Then it's a tough match first-up tomorrow against Scotland."
Brunei began well, but New Zealand managed to get on top and win the first set reasonably comfortably to set themselves on the road to victory.
However, the other New Zealand combination in early action at the Jawaharlal Nehru Sports Complex, womens' pair Manu Timoti and skip Jan Khan, lost their unbeaten record when they went down to Canada.
A match of relatively loose ends but tight scoring ended 8-6 7-8 3-2 in favour of the Canadians.
Having won their first four matches, Timoti and Khan remain in firm contention for the playoffs.
They have a bye this afternoon.
The women's triple and the men's pair both have two matches today - in the late afternoon and in the evening.
- NZPA