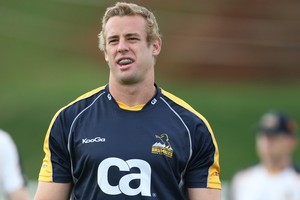 Delivering a fast start after their round-15 nightmare and regaining trust in defence are the big keys for the battling Brumbies in this weekend's Super rugby clash with the Sharks.
The match in Durban tomorrow morning pits the sixth-placed Sharks against a Brumbies team languishing in 10th spot with just two wins from nine games.
The Brumbies are coming off a 47-36 loss to the Cheetahs in Bloemfontein in which they conceded three tries in the first 12 minutes to be 25-0 down.
"We spoke last week about having a fast start and we let ourselves down," Brumbies lock Mark Chisholm said from Durban.
"We've really got to aim up this week and the start is the major thing we're concentrating on."
The Cheetahs kicked five penalties in the Bloemfontein fixture, but Chisholm denied discipline had been a major issue for his team.
He recognised the high difficulty factor of beating the Sharks on their own ground.
The Sharks will be without two injured forwards, captain and front rower John Smit and No 8 Ryan Kankowski.
Coach Tony Rea made a number of changes to the Brumbies team. Playmakers Matt Giteau and Christian Lealiifano have swapped jerseys, with the former listed to line up at first five-eighths and the latter in the No 12 strip.
Tyrone Smith will make his first start of the year at outside centre, with Andrew Smith shifting to the wing to replace Francis Fainifo, who drops to the bench.
Nob 8 Ita Vaea returns from injury, with Colby Faingaa switching to openside flanker in place of Michael Hooper, who is relegated to the reserves.
Chisholm predicted a bright future for prop Jono Owen, who will make his run-on debut in place of the injured Dan Palmer.
- AAP