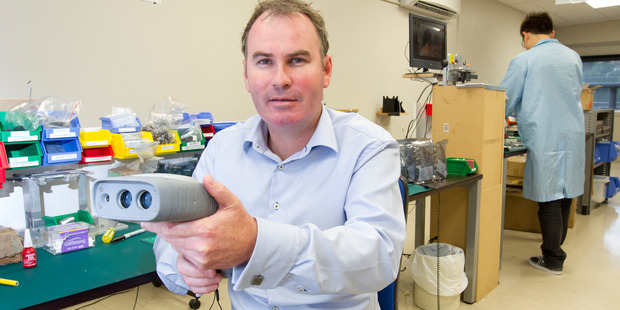 IkeGPS chief executive Glenn Milnes says the company would have "much preferred" its shares to have risen following its sharemarket debut today, but the firm is focused on its long-term growth plan rather than a short-term drop in the stock price.
IkeGPS shares, which were issued in the initial public offering (IPO) at $1.10, initially plunged by more than 18 per cent to 90 cents after the stock began trading at noon, before recovering ground to reach 99c by 1pm.
Other growth-focused stocks including Xero, Pacific Edge and Serko are also falling today.
Milnes said most shareholders viewed the company as a long-term investment.
"Right now it's about going back to work and hitting our plans," he said. "I think if we start hitting some of our milestones ... the share price will reflect that."
Milnes said the fall in ikeGPS shares did not suggest the IPO price was set too high.
"It was set through a bookbuild process [where institutions and retail brokers make bids to set final pricing]," he said. "I think it was market-based pricing."
The Wellington-based company -- which has developed a device used by organisations including electricity utilities to photograph, measure and geo-locate objects such as telegraph poles -- raised $25 million in new capital through the IPO, which will be used to fund a sales push in the United States.
IkeGPS' $1.10 issue price valued the loss-making company, which has forecast no dividends, at $55 million.
Chairman Rick Christie said the IPO attracted institutions and retail investors who appreciated the potential of the company's products to change the way physical assets are measured and modelled.
"Investors clearly understand the attributes of ike's solutions as well as the strength created by its partnerships with GE, one of the world's largest corporations, and with In-Q-Tel, the technology supplier to the US intelligence and special forces community," Christie said.
The 22.7 million new shares issued in the offer represent 45.4 per cent of the company, with remaining 54.6 per cent being held by existing shareholders who include management, US conglomerate GE -- which markets the ikeGPS device in the US -- and Kiwi venture capital firm No 8 Ventures.
IkeGPS made a $2.3 million loss in the 12 months to March 31 this year on revenue of $1.9 million, according to the prospectus.
The company has forecast revenue to increase to $6.4 million in the year to March 2015, with losses widening to $5.3 million.
A loss of $5.8 million from revenue of $14.3 million is expected the following year, according to the prospectus.
The company shipped 156 of its devices, which cost more than $10,000 each, in its last financial year.
Milnes has said the company was not releasing "specific dates and timeframes" on when it expected to turn a profit.
"Getting to profitability is important to us," he said last month.
IkeGPS recently launched a new product -- called Spike -- which attaches to a smartphone or tablet and offers similar technology to the main device but at the more affordable price of about $500.
The company was founded in 2003 by Leon Toorenburg, who got the idea for the technology while maintaining communications networks in Kenya.
The offer was managed by Forsyth Barr and Deutsche Craigs.