Former mayor accused of giving advice in unlawful advances and helping conceal Belgrave identity.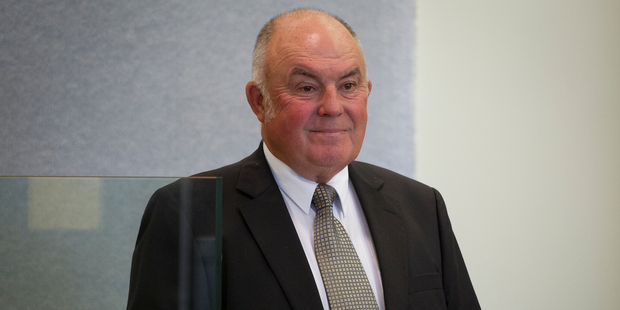 A former mayor prepared loan documents and gave advice on $12.6 million in "unlawful advances" of Belgrave Finance investor money to the now-collapsed company's "shadow director", the High Court was told yesterday.
These alleged related-party loans, which investors were not told about, created a large exposure to a single debtor - which is seen as a key contributor to Belgrave Finance's 2008 collapse that left almost 1300 people owed $20.5 million.
The former Central Hawkes Bay mayor and Waipukurau lawyer who allegedly helped this lending happen, Hugh Edward Staples Hamilton, has pleaded not guilty to 17 charges of theft by a person in a special relationship as well as charges of making false statements.
Hamilton is a former partner of DAC Legal and gave legal advice to Belgrave Finance and its alleged "shadow director" Raymond Schofield until its receivership.
In an eight-week High Court trial beginning in Auckland yesterday, the Crown alleged Hamilton helped Schofield arrange the purchase of Belgrave Finance so that his identity and control of the company was hidden. The purpose of this was to allegedly allow Schofield, who bought Belgrave in 2005 for $3 million, to borrow from the firm either directly or through other companies he controlled.
Over a two-year period after the purchase, Belgrave allegedly loaned $18 million to Schofield or entities controlled by him. Of this amount, Hamilton allegedly assisted on loans worth $12.6 million, preparing documents and advising Belgrave on "these unlawful advances".
Because Hamilton was instrumental in helping with the transactions and knew they breached Belgrave's trust deed, Crown lawyer Nick Williams argued, he was liable for the theft charges. During Williams' opening address the High Court court heard how Hamilton set up a trust which was to buy Belgrave and, on instructions, appointed Schofield's elderly mother-in-law as its settlor. This woman had no business experience and Williams said it was clear to Hamilton that Schofield controlled the trust's interest in Belgrave.
Williams said Hamilton also knew Schofield controlled Belgrave's named board members Stephen Smith and Shane Buckley. Smith and Buckley pleaded guilty to charges similar to those faced by Hamilton and were sentenced to four years and three years in jail respectively. Both are due to appear as witnesses in the Crown's case against Hamilton.
Schofield was also charged in the High Court case, brought by the Serious Fraud Office and the Financial Markets Authority, but was granted a stay on the proceedings in December 2012 because he is terminally ill.
Hugh Hamilton
*Served as mayor of Central Hawkes Bay for six years.
*Former Waipukurau Rotary Club president, Central Rugby and Sports Club chairman.
*Made a Member of the New Zealand Order of Merit in the 1997 Queen's Birthday Honours.
*In 2011, was facing bankruptcy proceedings through an unpaid debt for the purchase of a Wellington brothel.