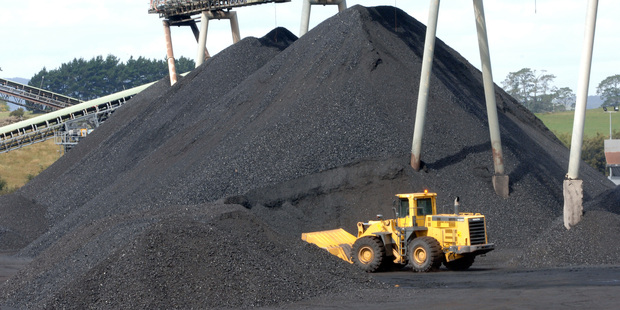 Coal heap at Solid Energy's Rotowaro open cast mine at Huntly. File photo / NZPA
Japanese financial giant Bank of Tokyo is opposing the debt restructuring deal announced on October 1 to help get state-owned coal miner Solid Energy back on its feet, but may be forced to take the deal anyway, papers lodged with the Companies Office show.
The Auckland branch of Bank of Tokyo-Mitsubishi UFJ is recorded as the second-largest lender to Solid Energy, which faces insolvency if the debt "compromise" stitched together between the company, the Treasury and Solid Energy's lenders doesn't go ahead.
The Debt Exchange Compromise documents show the six banks exposed to Solid Energy's financial woes are due to meet in Christchurch on October 22 to approve the deal, with only Bank of Tokyo declining to support it.
However, Bank of Tokyo lodged proceedings in the High Court in Auckland last Friday in an early indication it may seek to challenge the debt restructuring process.
ANZ Bank, Bank of New Zealand, Commonwealth Bank of Australia's New Zealand branch, Westpac New Zealand, and TSB Bank have all indicated they will vote in favour of the deal, which requires 75 per cent support by lenders, in proportion to the value of their lending.
The combined Australasian banks comprise 78.26 per cent of the $369.7 million in lending covered the compromise deal, meaning Bank of Tokyo will be bound by the agreement despite its failure to provide support - unless it succeeds in a legal challenge.
Under the deal, the banks will effectively write off $75 million of the outstanding lending by agreeing to swap debt for redeemable preference shares in Solid Energy.
In exchange, the government is also buying $25 million of redeemable preference shares and offering Solid Energy secured credit up to $130 million.
While the debt restructuring assists Solid Energy by lowering its debt to equity ratio, it will still be high at around 69 per cent once the arrangements are finalised.
"If the company is not able to restructure its financial position and its banking arrangements, the board is of the view that the company is unlikely to be able to continue to trade and liquidation or voluntary administration of the company will be the likely outcome," the debt compromise documents say.
They show Bank of Tokyo has a total exposure to Solid Energy before the debt restructuring of $80.1 million, roughly equal to the most exposed lender, Bank of New Zealand, which is owed slightly more than $80.1 million.
The second largest exposed lender is Taranaki-based TSB Bank, with $68.8 million, Westpac is next at $55.6 million, with ASB at $45.1 million and ANZ Bank at $40.1 million.
The compromise agreement sees some 20.4 per cent of the total $369.7 million being written down by the banks, before the government's $25 million contribution.
The RPS deal sees Bank of Tokyo and BNZ effectively writing off $16.3 million of debt each, while TSB takes a $13.8 million haircut. Westpac's hit amounts to $11.3 million, CBA's portion is worth $9.2 million, and ANZ is up for $8.2 million.
While in theory the redeemable shares may become valuable if Solid Energy recovers to commercial health, they rank just ahead of ordinary shares and below the secured lending the government has offered.
The compromise deal was hammered out over eight months between the announcement in early February that Solid Energy was in deep financial difficulty and carrying unsustainable debt levels because of collapsing global coal prices and unprofitable expansion into non-traditional activities.
The company unveiled a further $335 million loss for the year to June 30, driven by massive writedowns across its portfolio and restructuring costs associated with cutting some 600 jobs, a result which followed a $40.2 million loss the year before.
The documents show that all of the banks exposed to Solid Energy began lending to the SOE long before it ran into difficulty.
The ANZ, CBA and Westpac facilities all date from 2004, Bank of New Zealand's from 2009, and a second agreement with CBA dates from 2010, as does the Bank of Tokyo's facility. TSB's exposure is through a medium notes issue.