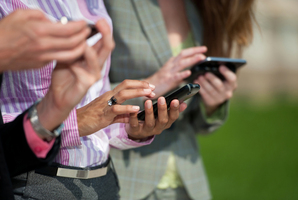 Pre-pay mobile phone users are reaping the benefits of a price war described by Telecom chief executive Simon Moutter as "a bit of a bloodbath".
Consumers have been advised to shop around for deals and not get locked into long-term contracts as a three-way contest between Telecom, Vodafone and 2degrees is creating a lot of movement in prices.
Announcing its annual results yesterday, Telecom said it had picked up mobile and broadband customers.
The firm this week relaunched its Skinny mobile brand, previously aimed at teenagers and young adults.
It has now been rebranded as a mainstream "no-frills" option in the mobile market, Mr Moutter said.
It gives a $16-a-month combo of texts, calls and mobile data, which is $3 less than similar 30-day deals from Vodafone or 2degrees.
But Vodafone gives more calling minutes, and under 2degrees' deal, any unused minutes are added onto users' limits for the following month.
Discussing Telecom's results yesterday, Mr Moutter said the pre-pay mobile market felt like "a bit of a bloodbath" - presumably because of the level of competition.
Telecommunications Users Association chief executive Paul Brislen said there had been a "real price war" in the pre-pay market since 2degrees started in 2009.
"They've really shaken things up. We've got real three-way competition ... and that's the best type of competition you can have," he said.
"We always tell customers not to sign long-term contracts ... I think it's doubly true at the moment.
Telecom said yesterday that it had gained 92,000 customers during the first half of this year, about 48,000 of them pre-pay customers. It now has about 1.8 million clients.
Vodafone said last month that it had gained customers between April and June after two years of client losses.
It has 2,307,000 customers.
While 2degrees said last year that it had more than one million customers, it has given no update on its numbers.
Saving dollars
* Don't sign long-term contracts, as there is a lot of price movement in the pre-pay market.
* Shop around and play telcos against one another.
* Contracts can offer free phones when you sign up, but they usually require a term of up to 24 months.