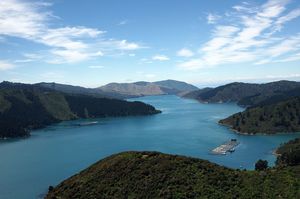 The Government is welcoming the High Court's dismissal of two appeals against a controversial salmon farm in the Marlborough Sounds.
New Zealand King Salmon was given approval by the Environmental Protection Authority in February to establish four farms.
Conservation Minister Nick Smith says it's about use of only six hectares out of more than 100,000 hectares of water space in the Sounds.
He says the new farms will deliver an additional $60 million a year in export income and provide 200 new jobs.
Environmental Defence Society spokesman Gary Taylor is disappointed over the decision, and says the group is considering going to the Supreme Court.
Meanwhile as the Government looks set for a U-turn on proposed snapper limits - a fishy problem remains.
New Zealand Fishing News editor Grant Dixon says while it's good the Government has listened to the fishing community, something still needs to be done to replenish snapper stocks and reduce waste.
"This whole issue needs to be debated in the future, it's not going to go away.
"I think it's important, regardless of what the Ministry for Primary Industries says, that still goes ahead.
"Those discussions have to be had.''
A public debate on the issue is to be held in Auckland on Monday, August 20.