Costs across NZ should be more consistent to attract more ships, but country remains a 'marque' destination.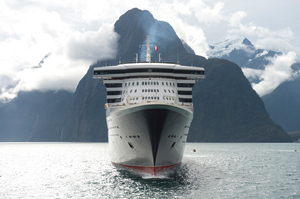 A United States cruise industry executive says New Zealand port companies need to come up with consistent pricing to help attract more ships.
Figures show fewer ships are due to call at New Zealand ports this summer but Crystal Morgan of Princess Cruises said New Zealand remained a "marque" destination.
Speaking at a cruise industry conference in Auckland, she said the Australia-New Zealand region was second-highest in the world in terms of importance for passengers travelling on Princess cruises and "overdelivered in terms of experience".
Morgan is the director of market planning, deployments and itineraries for Princess, which is based inland from Los Angeles, one of 10 brands in the 100-ship Carnival Corporation.
The corporation's other brands include the giant mass-market Carnival Cruise Lines, Cunard, P&O, Holland America and Costa Cruises.
While New Zealand port costs were "about average" on the global scale, there needed to be more uniformity among the country's ports, she said.
A flat rate would allow cruise companies to more easily plan.
About 11 per cent of the 1.4 million passengers on board Princess ships, including the Princess Dawn, Sea and Sun, cruised in New Zealand and Australian waters.
Morgan said one ship dedicated to the North American market sailed between Sydney and Auckland.
There were six brands operating in New Zealand over the coming season, Princess, Royal Caribbean, Celebrity Cruise Lines, Holland America, P&O Australia and Carnival.
She said the Australasian market was extremely competitive with so many operators here.
Hot competition in the family market had resulted in Carnival redeploying one of its ships from New Zealand to the South Pacific, contributing to the overall fall in ship visits around the country this season.
Morgan said key drivers for cruise lines' deployment decisions included historical ticket yields, competitive bed supply, source markets, positioning days between cruises and weather considerations.
"We want to have a head in every bed," she said.
To boost revenue, itineraries typically had at least a full day at sea built in to allow passengers to spend up at onboard casinos, drinks and at gift shops.
The main cost for ships was fuel, followed by port and food costs.
Morgan said the "silent killer" of the cruise industry was the cost of air travel to meet ships, itself related to fuel costs.
Surveys of Princess passengers ranked New Zealand destinations according to importance and delivery and on both counts Fiordland came out on top followed by the Bay of Islands.
Auckland was third in terms of importance and Napier was third in delivery.
Cruise ship visits to New Zealand are set to ease from the latest bumper season, but that has not diminished hope of seeing more tourism dollars.
Last summer, 211,000 cruise ship passengers visited New Zealand but that is forecast to slip to 200,000, with fewer cruise ships visiting.