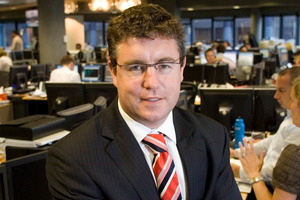 New Zealand consumer confidence edged up this month as people deemed the long-term outlook for the economy was brighter.
The ANZ-Roy Morgan consumer confidence index rose to 123.9 from 123.7 last month.
The current conditions index dropped 1 point to 122 and future conditions rose 2 points to 126.
"Both measures are at levels that we consider elevated and indicative of more self-assurance starting to percolate across consumers," said ANZ New Zealand chief economist Cameron Bagrie.
On a seasonally adjusted basis, headline confidence rose to 127 from 124, he said.
The reading of consumer confidence comes after strong readings in surveys of manufacturing and services, though this week's gross domestic product report recorded a gain of 0.3 per cent for the first quarter, half the forecast pace, as the negative impacts of drought showed up earlier than expected.
Those who felt better off than they were a year ago improved to 2 from 1 while those expecting to be better off in a year's time slipped to 33 from 36. Looking at the economy as a whole, the 12-month outlook improved to 16 from 12 and the five-year outlook rose to 28 from 25.
Those deeming it a good time to buy a major household item slipped to 41 from 44.