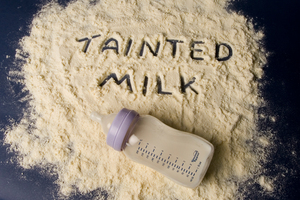 The Chinese partner of Hero Group, a major Swiss baby formula manufacturer, has been accused of deliberately mislabelling milk powder and a senior employee has been detained, officials say.
Authorities in Suzhou in eastern China, where the Xile Lier company is based, on Thursday said the firm had committed multiple offences, the person in charge Mou Jun had been arrested, and almost 25 tonnes of formula seized.
The news came after state broadcaster CCTV said the firm had been "adulterating" its product by mixing out-of-date formula with supplies imported under its partnership agreement with Hero.
Baby formula is a particularly sensitive product in China after at least six babies died and another 300,000 became ill in 2008 from drinking milk tainted with the toxic chemical compound melamine.
The company which produced the tainted milk in 2008 was engaged in a joint-venture with a New Zealand firm, underlining the risks for foreign companies entering China's fast growing food market through such schemes.
Demand for imported baby milk has soared as a result.
CCTV said government investigators accused Xile Lier of illegal practices including mixing imported formula with out-of-date product, changing sell-by dates on packaging, and re-labelling formula for older babies as more expensive milk for younger children.
The Suzhou Industrial Park administrative committee said in a statement Mou was arrested in January, adding: "The case is under further investigation at the moment."
Separately, authorities in Suzhou told AFP they shut down production lines at the firm in November on a whistle-blower's report.
But the products, sold under the Hero Nutradefence label, have remained available in Chinese shops.
State-run Xinhua news agency reported late on Thursday that food safety authorities in Shanghai had ordered 28 stores and 15 supermarkets to stop selling the label.
Xile Lier's outlet on 360buy.com, a major Chinese internet marketplace, was offline on Thursday, and none of its products were available on its main store on Tmall, another e-commerce site.
No Xile Lier officials could be reached for comment.
Hero, headquartered in Lenzburg in the Swiss canton of Aargau, is privately owned and has a turnover of almost US$1.5 billion, according to its website.
In a statement, the company said it had "not detected any problems concerning the quality and safety of its products on the Chinese market."
"The company will continue to closely monitor its sub-distributors to ensure the integrity of Hero products sold in China."
- AFP