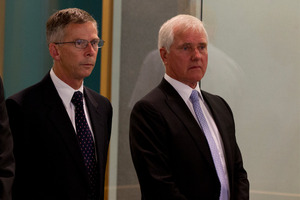 A sense of deja vu pervaded the High Court at Auckland yesterday afternoon as a witness in the new Dominion Finance trial appeared again before a different judge.
The trial of three men associated with the collapsed firm began for the second time yesterday after the High Court judge who was originally hearing the case stood down last Wednesday.
Former Dominion Finance director Robert Barry Whale, former chief executive Paul Cropp and a man with name suppression have pleaded not guilty to charges of theft by a person in a special relationship.
Last Monday, when the trial first began, the court heard how the men allegedly entered into a number of related-party transactions and knowingly breached requirements of the debenture trust deeds of Dominion Finance and sister company North South Finance.
After one and a half days of opening statements and evidence - including the property development woes of former rugby league star Matthew Ridge - Justice Pamela Andrews disclosed that she and Whale were both partners of law firm Kensington Swan at the same time.
After this disclosure and some deliberations, Justice Andrews stood down from the case and ordered a new trial to begin before Justice Graham Lang yesterday.
The Crown did not deliver its opening arguments again but lawyers for the defendants yesterday repeated opening submissions to the judge.
The court took Ridge's evidence and that of a property developer as read by the court, but former Dominion Finance risk manager Martin Sweetappl, gave evidence from scratch.
The witness, who appeared last week, told the court yesterday of the liquidity problems Dominion Finance was experiencing towards the end of 2007.
Dominon Finance went into receivership in September 2008 owing almost 6000 investors $176.9 million. Receivers estimate that debenture holders will recover between 10c and 25c in the dollar.