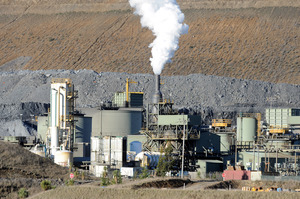 Oceana Gold's production guidance is encouraging, with a demonstration that its cash costs are falling, says Forsyth Barr broker Peter Young.
The East Otago and Reefton gold miner issued new guidance last week and confirmed it had raised equity capital.
Forsyth Barr lifted its 2013 full-year operating earnings forecast 1 per cent to US$274.3 million ($334.2 million) and reduced the target share price by 70c per share to $4.40. It left its buy recommendation unchanged.
Young said the production guidance provided by the company was close to expectations and resulted in only minor changes to the Forsyth Barr forecasts.
Gold production was expected to be in the range of 285,000 ounces to 325,000 ounces and copper production between 15,000 tonnes and 18,000 tonnes.
"We have lowered our New Zealand gold production forecast by 11,000 ounces to 245,000 ounces as, given Oceana Gold's recent track record with guidance, we want to take a more conservative stance."
However, Forsyth Barr had raised its copper production forecast so that it was in line with Oceana Gold's Didipio gold production in the Philippines, he said.
Oceana Gold had guided cash costs to between US$650 an ounce to US$850 an ounce - assuming a US80c cross rate and a US$3.40 a pound copper price.
"In our view, the exchange rate assumption is optimistic based on current spot rates, and the copper price is conservative. Given the uncertainties with the first year of Didipio production, Oceana Gold had indicated it would reissue guidance at the end of the first quarter."
In a move that wasn't necessary, strictly speaking, Oceana Gold raised C$90 million ($110.5 million) by issuing 30 million shares, Young said. The decision to raise additional equity had reduced the company's debt levels, bringing it more in line with its peers, none of which had significant debt.
In the past month, the gold price had fallen from $2100 an ounce to $2000 an ounce, which saw gold index and market multiples fall 10 per cent. The equity raising also had a diluting effect. Combined, those effects reduced Forsyth Barr's target price to $4.40 although that still represented a target return of more than 30 per cent, Young said.
Oceana Gold continued to trade at a 25 per cent discount to its peers due to the high cost of production. Gold cash costs were moving lower due to Didipio copper byproducts credits. But the firm's discount was expected to fall in 2013.