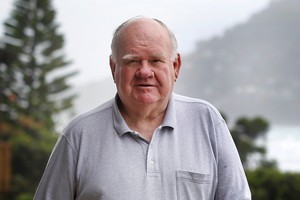 After nearly half a century in the car industry Sir Colin Giltrap, who is 71, still gets up and goes to work, but admits he arrives a little later than he used to.
Since opening his first car dealership in Hamilton in the 1960s, Sir Colin has become one of Australasia's motoring magnates, selling luxury vehicle brands such as Mercedes-Benz, Aston Martin, Porsche and Audi.
In the 1980s, it was reported that anyone buying a car in Auckland had a four-to-one chance of buying it from Sir Colin's yards.
His empire extended across the Tasman and also to the United Kingdom, where he was once said to be Britain's fourth most powerful car dealer.
Although he has sold down his interest in the UK, Sir Colin remains chairman of the Giltrap Group and plans to stay there as long as he is able.
The car king is estimated to be worth $300 million with a $5.5 million Mt Maunganui apartment and a London penthouse, but is today made a Knight Companion of the New Zealand Order of Merit for giving - rather than earning - money.
Honoured for his services to motorsport and philanthropy, Sir Colin has put many millions of dollars into the New Zealand A1 Grand Prix team and was instrumental in keeping the V8 Supercar Series in the country.
He backs motorsport to give talented young New Zealanders the chance to become world champions.
Scott Dixon, who won the Indy Racing League and Indianapolis 500, is one driver Sir Colin has helped.
"There have been lots of proud moments. There's nothing like an A1 race and hearing the New Zealand anthem playing in Germany," Sir Colin said.
Although motor racing has few local benefactors, Sir Colin said his adult sons, Richard and Michael, were continuing his efforts with the sport.
"[Racing] is beginning to be rejuvenated, especially with the new guys we're sponsoring. Hayden Paddon - he's going to be a star, I think."
Outside of motoring, Sir Colin has helped a wide range of sportspeople including boardsailor and Olympic gold medallist Barbara Kendall.
The car magnate has also sponsored Auckland's SkyCity Symphony in the Park, which raises money for breast cancer. With his wife, Lady Jennifer, he has had a long-time involvement with the Starship Foundation, a charitable trust that raises money to help sick children and their families.
With his sons serving as joint managing directors of the family company, the Giltrap dynasty is set to continue after Sir Colin steps down.
Speaking to the Weekend Herald from his beach house in Pauanui, Sir Colin said his family's involvement keeps him coming to work.
"[The] two boys in the business, that's what keeps driving me, otherwise I probably would have sold up at my age. But the boys are doing a good job and we've got some wonderful franchises," he said.
Sir Colin said the people working with him over the past four decades were key to his success.
"We've employed a lot of good people, 600 or 700, and if it wasn't for them I wouldn't be where I am."
KNZM
For services to motorsport and philanthropy: Colin Giltrap.