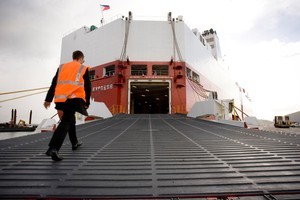 Local authority ownership of ports is to be scrutinised as the Productivity Commission puts New Zealand's international supply chain under the microscope.
The commission wants public submissions on an issues paper released yesterday to shape an inquiry into the performance of international freight transport services.
Commission chairman Murray Sherwin said New Zealand was the most remote developed country in the world and the way it got products to and from international markets was critical to success.
"New Zealand exporters and importers currently spend about $5 billion on freight each year," Sherwin said. "We're looking at whether these costs can be lowered and the services improved."
Better performance in freight transport should result in lower prices for imported goods, higher profits for exporting industries and quicker freight turnaround, he said.
International evidence suggested a 10 per cent reduction in transport costs could lead to a 1 to 2 per cent rise in trade, equivalent to about $1.25 billion a year of extra imports and exports.
A reduction in transport times for both imports and exports by one day would yield an estimated $670 million of benefit every year, the commission said.
New Zealand ranked 21st among the top 30 countries in a World Bank logistics performance index 2010 list, the paper said.
The inquiry would look at all components of the international freight supply chain, including regulation, port and airport ownership, customs, technology and market trends.
The commission said the paper asked whether council ownership was getting in the way of ports and airports performing more efficiently to help exporters and importers and if ports needed to be more collaborative and innovative to improve performance, which was lagging behind that of ports in some other countries.
Ports were an important part of the efficiency of the supply chain, Sherwin said.
A report last year by the New Zealand Shippers' Council said all four major container ports of Auckland, Tauranga, Lyttelton and Otago would need to increase capability to support projected cargo growth.
However, not all four ports would need to invest initially, and it was logical for two to invest to become 7000 twenty-foot equivalent unit capable within a five-year period - one each in the North and South Islands.
The commission's issue paper also asked if regulatory arrangements were adequate to deal with anticompetitive behaviour in the international freight industries and whether the Minister of Transport should pass certain regulatory functions to the Commerce Commission.
"The inquiry will help ensure that New Zealand has the best regulatory framework and the right incentives to achieve best practice across the industry," Sherwin said.
The commission is due to release its draft recommendations for improving the performance of international freight transport services in December.