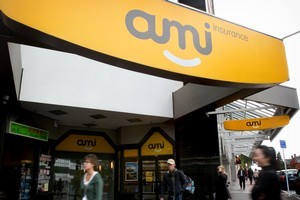 AMI, Christchurch's largest residential insurer says it has finalised a $1.3 billion reinsurance package, and is trading profitably, but has downplayed speculation of a possible sale of the company.
Chief executive John Balmforth said the company's re-insurance programme
has more than doubled, up from the $600 million per event in the year to June 30, to $1.3 billion per event in the year beginning July 1.
The insurer paid about $46 million for the re-insurance.
"The new package we have now finalised is obviously more expensive, because of the higher level of catastrophe cover, and because re-insurance rates have increased.
"Everyone is having to pay more for insurance - that is just the new reality.
"But we are happy that the package is prudent and appropriate, meeting the reasonable needs of policy holders and the company," Balmforth said.
The Government stepped to save AMI Insurance policy holders in April with a $15 million rescue package, in case the company exhausted its reserves due to the financial hit caused by the Christchurch earthquakes.

AMI approached the government on March 9 about a possible shortfall in its reserves.
The urgency of obtaining reinsurance became clear when Civic Assurance, which provides insurance for 46 councils, revealed this month that it could not get reinsurance.
Balmforth said the company was trading profitably and had begun the process of seeking new capital.
However chairman Kerry Nolan downplayed speculation that it was involved in discussion with other insurance companies about the possibility of investing in AMI.
"We have a number of options that would bring more capital into the company, but we are fortunate to have the support of the Government, which allows AMI to take a measured approach to this capital raising process.
"Until we have been able to assess all claims relating to the February earthquake, the full extent of our liabilities, and how much of our own reserves will be needed to help meet these claims, cannot be calculated.
"Nevertheless we have already established a task force and appointed Goldman Sachs, to examine our future capital needs and options," said Mr Nolan.
"While we are able to call on the "backstop" agreement with the Government to provide more capital if necessary, we are confident that we will have secured whatever new capital we need, from other sources."
- Susie Nordqvist