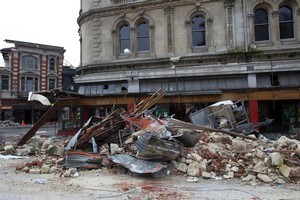 The liquidator for collapsed Queenstown insurer Western Pacific says there will be a shortfall of funds available for claims resulting from the Christchurch earthquake, striking a blow to rebuilding efforts by some businesses there.
Latest estimates reveal the company owes creditors $41.2 million, about $35.2 million of which resulted from the two Christchurch earthquakes.
Earlier estimates put the total level of insurance claims at almost $6 million.
The small New Zealand-owned insurer stopped writing new policies after chief executive Jeffrey McNally said February's quake "swamped us" and the company was placed in voluntary liquidation on April 1.
David Ruscoe and Simon Thorn, of Grant Thornton, said they were hopeful $32 million would be available for Canterbury earthquake claims, leaving a more than $3 million shortfall in funds for Christchurch policyholders.
A long list of Western Pacific Insurance creditors as at April included the Earthquake Commission, global real estate business Colliers International, New Zealand's largest medical insurer Southern Cross, AA Insurance, and various car panelbeating and crash-repair businesses.
The liquidators have indicated the company's aggressive approach to winning market share by promoting low premiums, coupled with a significant lack of capital, may have led to its downfall.
The liquidators said they were reviewing the performance of directors to ascertain whether there were any actions available to recover funds for creditors.
Such actions could include claims for reckless trading, entering into transactions when insolvent and certain voidable preference payments.
- NZ HERALD ONLINE