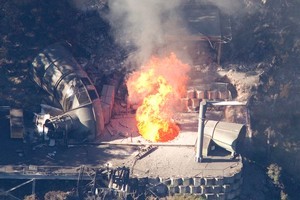 Buller coal project sponsor Bathurst Resources is in trading halt on the New Zealand and Australian exchanges, pending what managing director Hamish Bohannan says will be a "positive" announcement as early as tomorrow morning.
Perth-based Bohannan is in New Zealand at present, and said today's trading halt came ahead of news that was "all positive".
"Something will come out of the woodwork, possibly tomorrow morning," he said.
However, he confirmed that Bathurst has no interest in the assets of the Pike River coal mine, expressions of interest in which are due with the receiver, John Fisk of PricewaterhouseCoopers, by Friday this week.
"We have no interest in Pike," said Bohannan. "We're open-cast miners."
The Pike River mine has been placed on the market following a tragic explosion last November than claimed 29 lives and has closed the underground mine indefinitely.
State-owned coal miner Solid Energy has expressed interest in the development, and Fisk said there would be "an update of some sort" at the end of the week.
Meantime, Bohannan said Bathurst has lodged applications with the Department of Conservation for access rights to its proposed Escarpment mining project, and that the department had "told us that there aren't any issues."
He expected access arrangements to be granted "in due course", with the most outstanding barrier to starting mining now being the granting of resource consents, hearings for which are due in June.
Bathurst hopes to be starting mining operations at the Escarpment project, inland from Westport, by the end of this calendar year.
To sceptics who doubted Bathurst's aggressive timetable could be met, Bohannan said: "Just watch."
Bathurst shares rose 11.6 per cent in the last week to trade last at $1.64, still below their $1.74 high-point, reached since the company listed on the NZX at 92 cents a share last December.