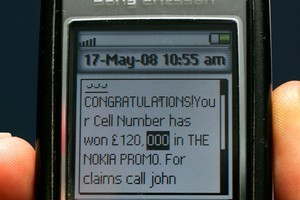 Scammers rely on human vulnerability. And some of the most vulnerable people in our society are in the 65-plus age bracket.
Many older people grew up in a simpler age where people looked out for their neighbours and others more. It can make them susceptible to plausible fraudsters.
Not all older people are vulnerable, of course, points out Ann Martin, chief executive of Age Concern. Life experience grows as you get older and many are scam-savvy.
Nor are the over 65s the only people to get scammed. Telling the difference between a legitimate opportunity and a scam isn't easy. Just look at Hanover founder Mark Hotchin, who fell for a get-rich-quick scheme in 2002.
"Some older people are trusting, and other seniors are not, just as in other adult age groups," says Martin. "There is a perception that older people are more trusting than younger people but Age Concern does not have evidence of this."
Whenever I write articles about scams and financial abuse of older people, I get an inbox full of awful stories. There are certainly some older people, often those who have dementia or have grown confused, who are vulnerable.
Although no one wants to say that elderly people are more vulnerable, there is no doubt that the 65-plus age group is often targeted by scammers.
For example, the Electricity and Gas Complaints Commission put out a press release last month warning about young men going door-to-door in an Auckland housing complex for the elderly, encouraging residents to change power companies.
"At least one resident of [an] Otara complex provided identification and bank details and signed a piece of paper. The elderly woman did not know what she had signed or what company the men represented," the press release said. The Citizens Advice Bureau helped the woman by putting stops on her accounts.
In another example, just over a year ago a man was apprehended after repeatedly talking his way into elderly people's homes in Christchurch and telling a hardship story to encourage them to lend him amounts from $60 to $600.
According to the Ministry of Consumer Affairs, which runs Scamwatch, Kiwis lose around $448 million to scammers each year.
Scammers have become more sophisticated. They're able to create near-perfect copies of emails from banks and ask for individuals' bank passwords. Every year thousands of people fall for them.
The stakes are higher as well. Although there have always been people who succumbed to fraudsters and gave them access to their bank accounts, there are more fraudsters these days.
That's because anyone with a computer in Russia, Nigeria or any other country can run these frauds. They don't need to know or meet us in person.
Scams have always existed, long before the internet was invented. Grant Sidaway, executive officer of the Federation of NZ SeniorNet Societies, says in the 1950s and 1960s one featured in newspaper ads regularly where people were asked to post £10 to an address to find out how to cut their phone bills in half.
Their stamped addressed envelope came back containing a pair of children's scissors and instructions on how to use them to cut the bills in half.
Nor are telephone scams new. It's just that phone scams are becoming more frequent. Apparently 17 per cent of New Zealanders received phone calls from scammers alleging their computers were infected by a virus. The scammers asked for remote access to the computer and requested the victim's credit card number.
Every year there's an even bigger, bumper crop of scams. Scams work, says the Ministry of Consumer Affairs, because they look like the real thing.
The most reported type of scam is the lottery scam, where the victim receives an email, text, phone call or letter stating that they've won a lottery - that they never entered. In order to claim the prize the victim needs to transfer a sum of money to the "lottery" company for paperwork or something similar.
Another common one is the "Nigerian" scam, where people are asked to transfer some money up front to get a share of an inheritance or business deal. The money is transferred, but the scammers are never heard from again.
If children are concerned about their parents'/grandparents' or other older people's vulnerabilities, they ought to warn them of scammers' common tactics, which include:
* Asking them to pay up front for anything, be it a prize, tax refund, or even having work done on their homes.
* Anything that involves sending money with Western Union, or transferring any money into an overseas bank account.
* Emails that appear to be from their bank or Trade Me that ask for personal details, such as date of birth and passwords.
* Giving credit card numbers to any cold caller, even if the caller purports to be from the bank or a well-known company such as Microsoft.
* Being asked to bank foreign cheques or travellers cheques then wire an equivalent amount of money overseas, less a commission.
A few years back a lot of older people were immune to internet scams, because most weren't on the net. That has changed and a good proportion of the over-65s are on the internet and some inevitably fall for scams.
In some cases older folk may not have as much knowledge of internet and telephone crime. If you're struggling to send emails, you may not understand the finer details of how computer security works, or even understand the concept of a computer virus.
Thanks to credit cards, telephones and online banking, it is easier for anyone to inadvertently give access to their money to fraudsters without even leaving home. It's a good idea to:
Suggest to relatives that they get a second opinion before spending large amounts of money on anything. Perhaps set a dollar value. But remember, it's their money, not yours.
Suggest never to give credit card details to a stranger over the phone, or via email. No reputable company would phone or email asking for your credit card details.
Like everyone, older people do need to know what a phishing email looks like. They need to understand that even if the email looks like it comes from Trade Me or your bank, it may be a fake. The tell-tale sign is these organisations wouldn't ask for your personal information, passwords or bank access over the internet, says Sidaway.
More than 17,000 people participate in SeniorNet courses held in 89 locations around the country. "It's like a small or even large university," says Sidaway. Most come in wanting to learn how to do email and to surf the internet. SeniorNet encourages them to do basic computing courses, which cover the issue of security.
Rather than being too trusting on the internet, older people are often overly cautious. "A lot of people say, 'I never open up an attachment in an email'," says Sidaway. He tries to convince them that not all email attachments are dangerous. He also tries to persuade them that internet banking is safe providing they follow basic rules learned in the SeniorNet introduction courses.
Making older people aware of high-tech scams is important. Talk to them about the types of scams listed on the Scamwatch website.
It also may be an idea to suggest they have an unlisted phone number - although that won't protect against scammers who use automated software to dial automatically generated numbers until one is answered.
Once the money is gone, it's usually lost forever.
That's especially so if it has been transferred overseas.
Even so, scams should always be reported to Scamwatch and the police, to warn others and just in case there is a chance of the scammer being apprehended.