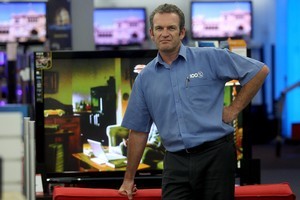 Errol Hotham is only 40, but has already spent half his life working for one of the Bay of Plenty's best-known retailers.
Had all gone to plan, he might have spent the rest of his career there, too. But at the end of next month, Guinness Appliances will shut its doors for the final time.
As general manager of the Guinness chain, Hotham once helped oversee nine stores throughout the region. But in recent years, competition from the big Australian chains has proved too much, and only two stores remain.
When sales slumped last year by 35 per cent, the stores' owner, the Hughes & Cossar Group, decided enough was enough. But it was still a tough decision, given that the business has been operating in the Bay of Plenty for more than a century.
Guinness Appliances began its life as a general store in Tauranga in 1908. Founded by brothers Sid and Jack Guinness, it originally sold everything from booze, to farm equipment, to petrol, as well as appliances.
It was acquired by Hughes & Cossar in the late 70s and according to the current head of the group, Wayne Hughes, in those days its exclusive dealership arrangement with Fisher & Paykel was virtually "a licence to print money".
Hughes is miffed that Fisher & Paykel has now abandoned that arrangement, these days preferring to deal with the likes of Noel Leeming and Harvey Norman, as well as traditional partners such as Farmers.
In recent years Guinness joined the 100 per cent Appliances buying group, but "even that's still not big enough to hack it with the big Australian chains," he says. "They're so competitive on price and on these huge interest-free periods for the financing of purchases. It was a combination of them and the likes of The Warehouse, who went into appliances for a while."
Customers often expect Guinness to match the deals offered by its competitors, he says. Unlike its rivals, however, it is not always able to make up for those loss leaders by persuading customers to buy more items with much bigger margins, he notes.
"Customers come in with Harvey Norman ads cut out from the paper and wanting you to match it, and you end up making $20 or $30 on a fridge. You just can't exist on those margins."
He acknowledges that Guinness was hit particularly hard when JB Hi-Fi opened at Mt Maunganui's Bayfair mall. Hughes describes JB Hi-Fi as "real discounters", but believes even it will struggle to compete with yet another Australian chain, The Good Guys.
The Good Guys, which has nearly 100 stores in Australia, is already rumoured to be eyeing a new site at nearby Tauriko, he says.
It is little consolation to Hughes that Guinness has not been the only casualty in the appliance wars.
In 2006, Wellington-based appliance and furniture chain Radford's decided to close after more than a century in business.
In 2009, Stereo World went bust, affecting the entire Retravision group. More recently, the Hill & Stewart chain was closed down not long after it was bought by JB Hi-Fi, and Eastern Hi-Fi called in the receivers.
The future of the Godfrey's chain, which specialises in vacuum cleaners, is also up in the air despite a financial restructuring in 2009.
According to its website, Godfrey's has more than 20 stores in New Zealand, and another 130 in Australia, some of which are franchised. The company was bought by private equity firms Pacific Equity Partners and Unitas for more than A$300 million in 2006.
It was reported last month that Godfrey's owes around A$80 million in senior debt, A$60 million in subordinated debt and A$46 million in "payable-in-kind" debt.
In December, AMP wrote down its holding in the company from more than A$100 million to just A$13 million and said the new valuation reflected the "expected multiple in a sale process".
There has been speculation in the Australian press that the chain could yet be placed in voluntary administration or receivership, and Hughes is convinced there could be some high-profile failures.
"I'm sure there will be a couple more casualties and in the end there will only be about two or three appliance chains left in New Zealand."
While he is buoyed by the fact that so many customers have told Guinness staff how much they will miss them, he also notes that many have felt compelled to vote with their wallets.
"The [big chains] don't provide any after sales service or any warranty work, whereas the provincial local guy, you could ring him up three months later if there was a problem, or the set needed returning or something, and he'd pop in and do it on his way home. Well, that's all gone now. These days, if something breaks down you just throw it away and buy another one.
"People now are now buying whatever they can get the best value for. There's Samsung and Haier and Elba and so many brands now and, you know, a fridge is a fridge. That loyalty has long gone. Now Fisher & Paykel are no longer totally Kiwi made so you can't push that barrow, even though they're still a New Zealand company."
Well, so far anyway.