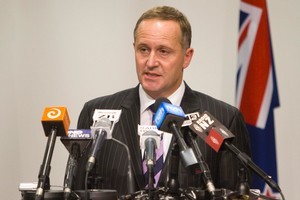 Government ministers are making "good progress" finding areas to cut spending so it can be reallocated to health, education and justice in the budget, Prime Minister John Key says.
The Government plans to axe all new spending in the upcoming budget - being labelled the zero budget. It had originally intended to add $800 million "new money" but now between $600-$800 million would have to be found from other areas as the cost of Christchurch's February 22nd earthquake bit.
Some Government programmes will be axed and cuts to Working for Families payments for high income earners were being considered.
Today Mr Key said most of the money would go to health and education but some would also go to justice.
Ministers were meeting tonight as part of ongoing efforts to find areas to cut.
"It's going well. We're working our way through it. It's not easy," Mr Key said.
"We are having to find a significant amount of cash to reallocate but I think the country understands and recognises the situation the Government faces and that is that somehow the earthquake has got to be paid for and... the options are simply a direct impost on the people of New Zealand or the Government tightens its belt and I think the latter is a better and fairer response."
Labour leader Phil Goff was concerned.
"We are led to believe this is going to be a tough budget," he said.
"This is a budget that can't be tough on middle and lower income people who are already struggling to make ends meet. If it's going to be tough on anyone then perhaps those that got the big tax cuts at the top can carry a little bit more of the share of the burden rather than people having their Working for Families cut, having their Kiwisaver scheme cut or having their student loan scheme cut."
Progressive leader Jim Anderton said the Government was using the quake as a cover for its bad economic decisions.
"The earthquake is expensive but the economy was already deeply in the red when the earthquake hit."
He said there was no reason to try make up the entire cost in a single year and the burden could be spread over time.
- NZPA