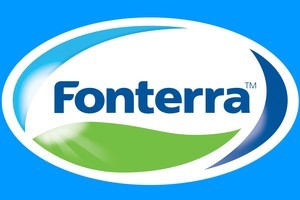 Fonterra has announced it is increasing its forecast payout for the current season by 60 cents per kg of milksolids. The new payout level is $7.90 to $8.00.
Based on last year's production figures, this forecast payout would mean Fonterra paying out just over $10 billion to its farmers shareholders.
This would mean an average payout for its approximately 10,000 farmers of $1 million.
The forecast payout incorporates a forecast milk price of $7.50 per kilogram of milksolids - 60 cents higher than the previous forecast - and a 'distributable profit' range for the 2011 financial year of 40-50 cents per share. This part of the payout is unchanged from its previous forecast.
See the full release here.
Fonterra now forecasts that a 100 per cent share backed farmer will receive, on a cash basis, a total of $7.75-$7.80, with the balance of distributable profit being retained by the co-op.
The latest increase, combined with a 30 cents increase announced last December, means the forecast milk price for 2010/11 season is now 90 cents higher than the season's opening forecast of $6.60 per kilo and $1.40 higher than the 2009/2010 season payout which was $6.10 per kgMS.
Fonterra Chairman Sir Henry van der Heyden said the latest increase in the forecast price "reflected further strengthening of international dairy prices over recent months."
The average price achieved at the Fonterra online auction on February 15 was 23.7 per cent higher than the December 1 2010 auction which took place a few days before the December re-forecast.
"As Fonterra is now entering the latter stages of the season, a good proportion of this season's production has already been sold.
Therefore, current market prices only have a partial influence on the 2010/11 milk price, which is calculated as an average across the season," said van der Heyden.
"This significant milk price increase is welcome news indeed for Fonterra farmers, many of whose farm businesses remain under pressure after several challenging years and a current season marked by some difficult weather conditions. It's also good news for the New Zealand economy and underlines the importance of dairying to New Zealand's ongoing prosperity."
Chief executive Andrew Ferrier said higher dairy market prices had been driven by a combination of strong demand from China and other Asian markets, and tight international supply due to adverse weather conditions in many parts of the world.
"These higher prices have more than offset the negative effects of an appreciating Kiwi dollar against the US dollar," he said.
Ferrier said despite the impact of weather factors, global supply was still growing - although at a slower rate than previously expected. Fonterra now estimates global milk production for the 2010 calendar year grew by 1.8 per cent, down from an earlier estimate of 2 per cent.

- NZ HERALD ONLINE