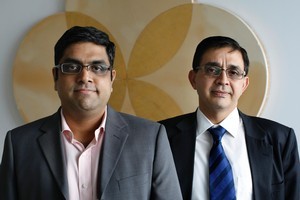 Olam International could make takeover target NZ Farming Systems Uruguay profitable within two years, says the Singapore-listed company.
Vivek Verma, managing director coffee and dairy divisions at Olam, said some of NZ Farming Systems' forecasts were extremely ambitious and probably not realistic.
"Even in the best of farms, even in their modern farms they've still not achieved what they should have achieved and they've been running those farms for four years now."
Olam, which already owned 18.45 per cent of the company, had been quite disappointed by results, he said.
"We have now come to the conclusion that while the opportunity and the idea is good, it has not been executed on well and we believe that we will be able to add considerable value if we do take control."
In a market update in May, NZ Farming Systems confirmed a projected earnings before interest and tax loss of a maximum US$10 million ($13.6 million) for the fiscal year.
"We believe there is a profitable model which we should be able to achieve over the next two years," Verma said. "We are confident, we do believe that this will be a turning point for the company and we would encourage shareholders to let off part of their shareholding and make this offer successful."
Olam offered 55c each for all shares, although the bid was conditional on having more than 50 per cent of voting rights and Verma said the company would be happy to have a significant Kiwi shareholding.
NZ Farming Systems had initially planned to buy 24,000ha of land in Uruguay but actually bought close to 36,000ha, he said.
"Practically using up all the funding that was available to the company just in buying up land and not having enough funding left to really develop it and take the project to full completion," he said. "So that was obviously, I think, a serious mistake."
A large part of the land had been bought in the east of Uruguay, which had never been a traditional dairying region, Verma said.
"We would definitely want to review that if we are successful in the offer as to what would be the optimum use of that land, or what would be the optimum location for dairy."
Olam was impressed with the people in the company in Uruguay and by some of the infrastructure.
"It's a team of very bright, very dedicated and passionate managers," Verma said.
"So there are several aspects which are quite interesting about the company."
Olam would like the company's independent directors to continue, Verma said.
NZ Farming Systems has said it needed to raise about US$60 million to complete the development of the company and that it could issue bonds in Uruguay, bring in new equity and sell dry stock farms.
If the company did require US$60 million Olam would be supportive of any capital raising, Verma said.
Olam required control to effectively execute its plans and would have tore-evaluate its options if the takeover was not successful, he said.
NZ Farming Systems said Grant Samuel & Associates had been appointed to prepare an independent adviser's report on the takeover.
TAKEOVER BID
* Olam International has offered 55c each for all shares in NZX-listed NZ Farming Systems Uruguay.
* Offer is conditional on having more than 50 per cent of voting rights and Overseas Investment Act 2005 consent.
* NZ Farming Systems was set up to develop dairy farms in Uruguay.
* Olam operates in 64 countries with businesses including cocoa, coffee, cashew, sesame, rice, cotton and wood products.