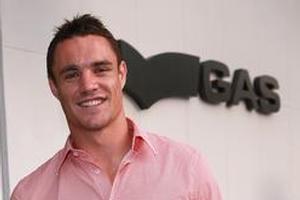 All Black-turned-businessman Dan Carter has opened a new fashion store in Auckland, just two months after his first shut up shop.
B Original - a women's fashion clothing store - is open for business in Nuffield St, Newmarket.
The shop, which has been open for about a week, is located on the premises where Carter's first fashion outlet, Gas, an Italian-styled clothing store, was located.
Newmarket Business Association chief executive Cameron Brewer said he was happy the rugby star was back in business in Auckland, given his popularity.
"We really want Dan to succeed in Auckland - he is, after all, the biggest name in New Zealand sport.
"There'll be a lot of interest in the shop during next year's Rugby World Cup."
Mr Brewer said it was disappointing that Carter had been forced to close his Auckland-based Gas store.
"When Gas opened in Wellington, we lobbied for Dan to bring his business north," he said.
"Unfortunately [it] opened in Auckland just as the world went into economic recession," Mr Brewer said.
Auckland's Gas outlet had been open for less than 18 months when it shut in late February.
However, the Christchurch and Wellington stores are thriving.
At the time of the Auckland store's closure, retail manager Stephanie Bell said the Newmarket location never really worked for the brand.
Mr Brewer said Carter had gone into business with Brazilian expat Debora Paz, who founded the B Original outlet in Mt Maunganui.
Consequently, the rugby star's new store would include pieces from some of Brazil's top designers.
Mr Brewer said he understood that Carter would be a lot more involved in the new outlet.
"Because it's female fashion, it doesn't clash with his existing sponsorship deals and, so I understand, that will free him up to be more publicly involved with its marketing," he said.
"When Gas closed, some commentators were quick to suggest that All Black business ventures had a long history of coming up short.
"However, this All Black is still in business because he's been brave enough to pull the plug and reposition."