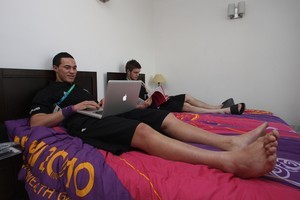 Auckland teenage boxer Joseph Parker showed what all the hype is about with an explosive start to his Commonwealth Games super heavyweight campaign today.
The 18-year-old beat Canadian Didier Bence 14-7 in a fiery contest, charging home late in the third and final round when it appeared the over-91kg fight was slipping away.
Parker was down 7-5 on points when he landed a decisive right hand to Bence's head with one minute 15 seconds remaining.
It knocked the nuggety Canadian down and effectively ended the fight as Parker registered the last nine points. He rained blows on Bence during that period, prompting two standing eight-counts.
The fight steadily built in intensity.
Defence ruled the first round, which ended with the scores locked at 0-0. Using his 1.91m height and fast hands to good effect, Parker built a 3-0 lead before Bence, who was warned twice for leading with his head, charged back with some powerful inside combinations.
Some strong words from New Zealand coach Billy Meehan after round two seemed to have the right effect on Parker, who advances to the last eight and further raises expectations for a youngster fast forging an international reputation.
He won silver at the Commonwealth championships in Delhi in January, a bronze at the world youth championships in Azerbaijan and a silver at the Youth Olympics in Singapore.
Earlier, another New Zealander exited the Games when Greymouth middleweight Nathon McEwen was outpointed 8-2 by Northern Ireland's Eamonn O'Kane.
McEwen finished strongly, picking up his two points late in the third round, but most of his punches were taken on the gloves by O'Kane, who was able to pick apart the West Coaster's defence.
- NZPA