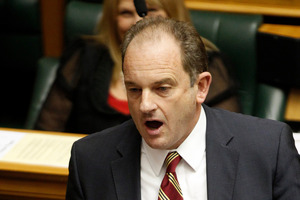 Often dubbed the Minister of Distractions for her alacrity with conveniently timed policy announcements to draw attention away from trouble elsewhere, Paula Bennett certainly excelled herself this week without even lifting a finger.
The saga of the Ministry of Social Development's failings relating to computer security certainly drew attention away from that ugly wart of what Prime Minister John Key knew and when about Kim Dotcom. Unfortunately, in this case the distraction was worse for National than the problem it cured.
Given that, Labour should really have seized it with both hands.
But instead of leaping in to frolic in that field of red faces, bureaucratic incompetence and complacency, Labour's leader, David Shearer, began this week as he ended last week - futilely banging on about a video that might have existed in which the Prime Minister might have mentioned Kim Dotcom to GCSB staff way back in February.
Unfortunately, two 'mights' don't make a right.
When Shearer first revealed on 3 News last week that his sources within GCSB reported that Key had made a comment about Dotcom in the staff room after a February briefing, and there was possibly a video of it, a little thrill ran up the spines of onlookers. It was the type of thrill that precedes a monumental shift in the parliamentary landscape.
Alas, poor Shearer. When he pulled the trigger, all that came out was a little cartoon-style flag with "bang" on it.
Lesson 1: When trying to bring down the Prime Minister, it is safer to send the gunslinger out with a loaded gun.
To recap: the hypothetical video is relevant because Key originally said he heard about GCSB's involvement in spying on Kim Dotcom only in September.
The video has been described as absolute proof that he knew about Dotcom way back in February. Even if that tape did exist it would confirm only what Key had already conceded, because he has already admitted that the GCSB had included Dotcom in a powerpoint slide and notes for a wider briefing to him back in February. Key said he did not recall that, but it was likely, given the notes.
The only added factor is that a video could prove Key - who claims that eight months after that briefing he cannot recall Dotcom being mentioned at all - certainly did remember it five minutes later if he made a joke about it in the staff room.
The issue has meant that at a time when the Government is flailing after revelations of a major privacy breach at the Ministry of Social Development, Shearer did not mention that once in his first media conference of the week.
Instead, he spent 12 minutes insisting it was Key who had to prove the video did not exist and come clean about what he had really said, regardless of whether there was a tape at all.
His refrain that it was not about the video was in stark contrast to his view the week before when it was all about the video. By Question Time, Shearer had recovered enough to deliver a wonderfully Dr Seuss-like lampooning of Key, quoting the Prime Minister's responses to questions about that GCSB staff meeting.
"Look, I don't know. Um, you know, who knows?," he intoned. It was a moment of light relief in a saga that is increasingly looking like it might backfire.
The credibility question now rests on the existence of the tape rather than what was on it. As far as solid evidence goes, in the memorable words of Whitney Houston, Shearer appears to have nothing, nothing, nothing.
If the video does pop up now, the GCSB will be first in the firing line. The Prime Minister has presented cast-iron assurances from the bureau that the video was a Sasquatch: a mere figment of the imagination that did not exist and never existed, and Shearer could spend the rest of his life looking for footprints but would never find them.
If the GCSB is wrong, that is a rather monumental second strike for a spy agency whose credibility is already shredded after the Dotcom incident. If the GCSB is right, Shearer is in the firing line, not least among his own caucus members who must surely be questioning why he leapt into the fray without solid evidence.
Lesson 2: If the gun is unloaded, send out a deputy rather than the sheriff. Now, rather than having some unfortunate lesser caucus mortal come unstuck, it is Shearer's barrel that has twisted dangerously and is pointing back at him while Key gleefully tamps in the gunpowder.
Shearer's predecessor, Phil Goff, left that lonely place known as the leadership with Key's taunts of "show me the money" echoing in his ears - the salute to that moment in the 2011 election when the PM truly asserted his dominance and from which Goff never recovered.
There is a rising suspicion that "show me the tape" will be the equivalent for Shearer.