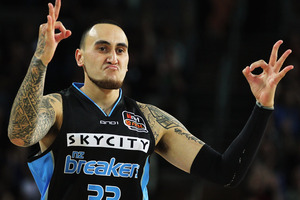 The Breakers clicked another piece of the 2012/13 jigsaw into place today with the signing of forward Leon Henry to a new two-year contract.
Tall Black Henry has proven his worth to the back-to-back champions over the past two seasons, first filling in for Kirk Penney and this season assuming a full time on court role.
The 26-year-old, who started game one of the grand final series in place of the injured Tom Abercrombie, is focused on repaying the faith shown in him by the club.
"I'm just thankful to be in this situation where I am wanted by a great franchise like the Breakers," he said. "It's all thanks to the coaching staff that has the belief in me as a player and to the owners and staff who contribute so much to help us win games of basketball.
"My main focus is to become an overall better player, being around the team everyday going at it at trainings is only going to help that and I look forward to the challenge.
One thing about this team is we push each other every day, enemies on the court then brothers off it. We have such a competitive nature within our group that it only drives us to be better.
Breakers assistant coach Dean Vickerman explained the club was keen to get the Tall Black's signature sooner rather than later.
"Leon's greatest asset is his ability to be an explosive athletic scorer - be it from the three point line, in transition or attacking offensive boards. That value extends beyond game day, though - we expect Leon to guard Tom Abercrombie every day in practice next season.
"Leon is a proven winner - coming off back-to-back New Zealand NBL championships and back-to-back ANBL championships. As a coaching staff we look forward to assisting Leon fight for a more significant role in the team over the next two seasons."
Henry is currently playing for the Otago Nuggets in the NZ NBL and will hope to play a role for the Tall Blacks as they seek qualification to the London Olympic Games before returning to prepare for another campaign with the Breakers.
The signing brings to seven the number of players confirmed for next season, - Abercrombie, Alex Pledger, Dillon Boucher, Daryl Corletto, CJ Bruton, Mika Vukona and Henry.
- APNZ