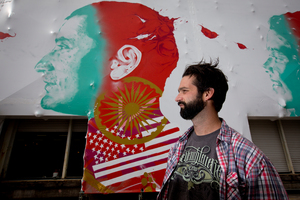 Local graffiti artist Elliot O'Donnell, who works under the name Askew One, has adorned the exterior of Shed 10 on Queens Wharf with a 98m-long, 12m-high depiction of Auckland's "cultural melting pot".
His previous works have included the C.K. Stead poem decorating silos at Wynyard Quarter and a portrait of artist Ralph Hotere in Kingsland.
Queens Wharf manager Connie Clarkson said the artist's newest outdoor exhibition showed off Auckland's cultural diversity - with faces from Scotland, New Zealand, China, Samoa, India, England and more.
The work was commissioned in time for the Trenz 2013 conference - an annual tourism and trade event showcasing around 250 New Zealand tourism operators, with 290 invited international travel and tourism buyers.
Starting on Sunday and running until Wednesday, the conference is expected to bring millions into New Zealand's economy.
O'Donnell's work will be removed in coming weeks as Shed 10 undergoes refurbishment.
- nzherald