Air France's fleet of long-haul A330s have had an upgrade.
The French national carrier has lavished €140 million ($234 million) to retrofit its Airbus planes with luxurious travel cabins for Business Class passengers.
But it seems that this refit does not stretch evenly across the 36 business, 21 premium economy and 167 economy seats.
The old business seats have been replaced by fully-reclining beds. Shrinking the number of seats from 40 to 36, according to Seat Guru the new seats have grown in width by an additional 3.8 cm to a generous 57.1cm across.
This extra width has allowed Business Class fliers to up their entertainment system from a 16 inch to a 18.5 inch high-definition touch screen. Air France has even found space in business to install a self-service bar.
Things are still looking plush in 'Premium Economy' where passengers have been treated to additional storage, more foot space and even a red feather pillow.
However, it would appear Air France have been robbing space from the cheap seats to give to the rich.
The economy seats have lost 2 centimetres pitch in legroom. Using a tricky work around in seat pitch, Air France has found space for an extra 20 seats in economy.
Despite announcing its economy offering as "comfort for all", the A330 seats are less egalitarian when it comes to room.
Upping the capacity from 147 to 167, it may seem a tight squeeze for lanky passengers.
Although what economy passengers lose in space, they have gained in technology and entertainment. The refitted economy seats now have 11.6 inch HD touch screens with an additional USB plug for passengers' mobile devices.
These will first be trialled by paying members of the public flying from Paris Charles de Gaulle in the tail end of the European winter.
"This is a major step in our overall strategy to move upmarket," said Anne Rigail, CEO of Air France.
She described it as "a strategy that has been underway since 2014 and which will result in our 15 Airbus A330s being equipped as from 2019."
The new Airbus A330 fit-out will then be rolled out to routes into Benin, Nigeria and India, as well as three more airports in the US.
Air France is not the first airline to have shaved off centimetres of space from the economy cabin to give to business passengers.
Following this 'anti-Robin Hood' ethos, there is a wider movement amongst airlines that are re-balancing business models. Many long-haul carriers are seeking to increase the luxury of premium cabins and economy of economy seats.
This month United announced it would be retrofitting more than 100 planes with extra capacity for Business Class seats. The US airline aims to add 1600 addition premium seats on nearly 250 jets.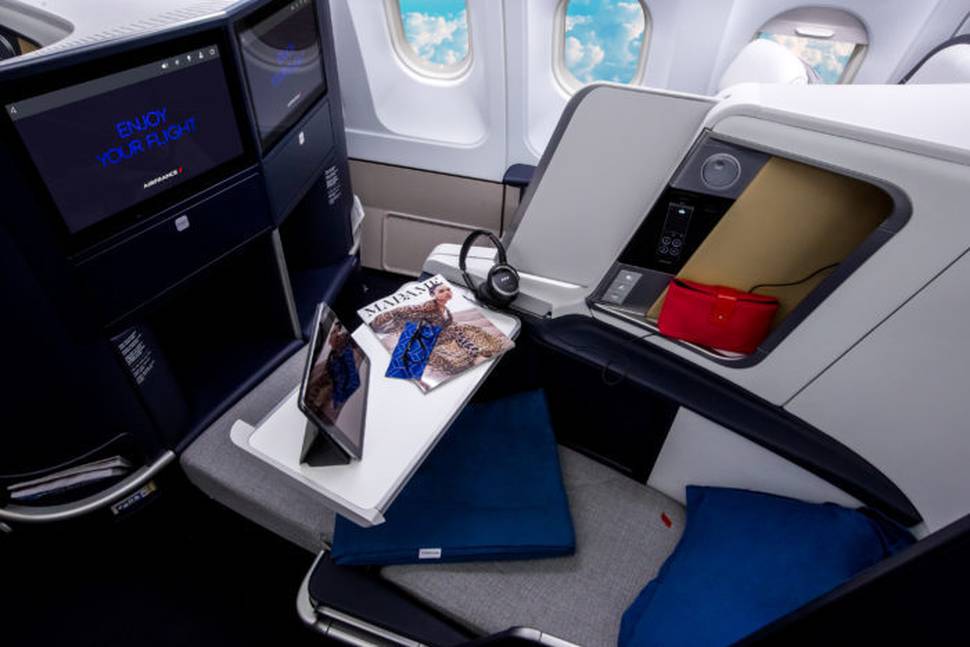 United's chief commercial officer told AP this move was in response to "a shortage of business-class seats into the premium markets."
Demand across the USA for 'premium seating' has seen demand triple (from 9 per cent in 2011 to 30 per cent), according to the airline Delta.
There are few travellers willing to pay thousands of dollars for the privilege of flying Business Class across the US, but according to Quartz magazine, those that do "account for an outsized portion of carriers' revenue".
During this uptick in demand for premium seats, the US Department of Transportation published figures via planetstats.com. They showed that of the 2.6 million passengers flying from New York to Los Angeles, America's most popular route, 13 per cent of passengers paying $800 or more for premium seats accounted for 40 per cent of the revenue.
A sizeable chunk of the $700m route.
This increased demand underlines airlines' pivot to serving premium customers.
While the majority of passengers might not be able to justify the cost of flying business-class, they are paying for it with chair space.