In March 2016, Auckland Council celebrates 50 years of regional parks with A Big Campout. Sarah Ell goes in search of a spot to pitch her tent.
Only 50 years ago, the Vaughan family sold their seaside farm to create the first of Auckland's network of regional parks. Now there are parks to enjoy in the city's north, west, and southeast - not only for a day-trip but as a place to pitch your tent, park your camper or enjoy a few nights in a character bach.
All but a few of the newer parks have accommodation that ranges from basic campsites to well-equipped tent sites, baches and lodges, and space for self-contained campervans. Availability calendars for all parks are online, and bookings can be made over the phone.
Kate Brown of the Auckland Council's parks and recreation team says spots such as Tawharanui, Sullivans Bay at Mahurangi and Te Haruhi Bay at Shakespear Regional Park book up fast, but spaces are usually available all summer at the southern parks. Many campsites have composting or vault toilets rather than the traditional long-drop, and safe water supplies, though in the more remote sites you may have to boil your drinking water, Brown says.
Whatever you want from your holiday, Auckland's regional parks can provide it. Here are some suggestions:
Active recreation
If you want to take your bike on holiday with you, the southeastern parks are the places to go. There are several great tracks in the Hunuas, as well as at Waharau, Tapapakanga and Duder, all of which have campgrounds.
A major network of tracks has also been developed at Waitawa, on the same coastline.
Waitawa is also home to a disc golf course, and an orienteering course is to be developed there. The park has been earmarked for "active recreation" and also offers horse riding trails, although currently the only accommodation option for land-based visitors is a bach.
Running along the south-eastern coast, linking the five regional parks from Omana to Waharau is Te Ara Moana, is the sea-going pathway - a sea-kayak trail which hops between special beachside campgrounds.
Beaches
You can't beat the beaches of the Tawharanui Regional Park - the sweeping white sand expanse of Anchor Bay is one of the most beautiful beaches in the region. If you like your beaches more intimate, Scotts Landing in the Mahurangi regional park (you can stay just up the hill in Baileys Cottage) has a special charm, as does the tidal but picturesque beach at nearby Scandrett Regional Park.
For wild and wonderful beaches, the regional parks on the west coast have plenty to offer, with campsites at Anawhata, Karekare and Whatipu.
Camping at Tawhitokino on the Kawakawa Bay coast is another special experience; you have to walk in at low tide but get to camp by a beautiful beach and wetland stalked by weka.
The Whakanewha regional park on Waiheke fronts a safe and attractive beach and is one of the park network's best-kept secrets (until now). Brown says there are almost always campsites available.
Isolation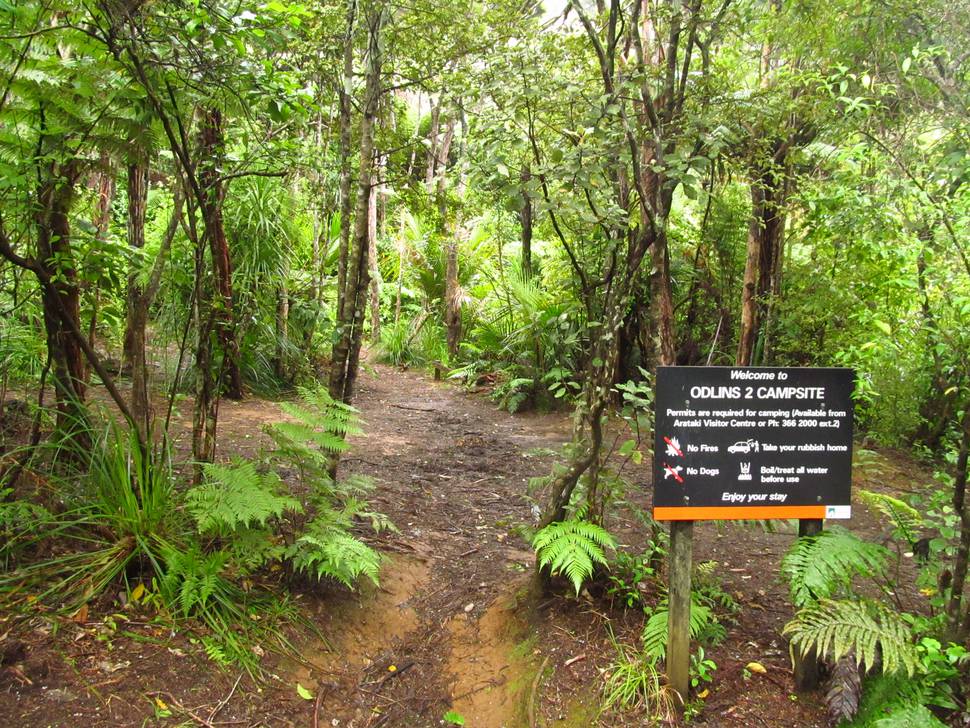 If you really want to get away from it all, the parks network offers some cool options for camping out. Atiu Creek, on the Kaipara Harbour, is one of the newer parks in the network and has a 60-person campsite near Solomon's Bay. There are also three baches available for rent: Atiu and Takahe Cottages and Courtyard House, which sleeps up to 14.
There is a small campsite at Whatipu Caves on the West Coast, about a 20-minute walk from the carpark. The Pae o te Rangi campground in the Cascade Kauri park, also in the Waitakeres, is about a 40-minute walk from the road but hardy campers will be rewarded with beautiful views and a back-country experience.
Baches
If staying under canvas isn't your thing, you can still enjoying staying over in a regional park in a bach. Brown's picks for the best baches in the network are the three heritage baches at Scandrett Regional Park, survivors of the bach community that thrived there from the 1950s; the Wenderholm Beach House, tucked amid the pohutukawa; and the Craw Homestead, a farmhouse on the hills above Anawhata.
The newest addition to the bach network is the Te Kuiti Cottage at Duder Regional Park, right on the waterfront at Umupuia Beach. The Waitawa Bach is also open for bookings this summer.
Family
While the well-known northern parks at Tawharanui, Mahurangi and Shakespear are always popular with families, there are some other good options.
Awhitu Regional Park, on the western shores of the Manukau Harbour north of Waiuku, is great for kids, with safe swimming beaches, boating and bushwalks on offer. There are two campsites, one near the historic Brook Homestead, or you can stay undercover at Awhitu House.
Omana Regional Park near Maraetai is also good for families, with the large Cliff Top campground, easy walks, open spaces and a safe swimming beach.
Also, you might not know that you can camp at the Ambury Farm Park in Mangere, for an outdoor adventure close to home. Kids can enjoy the farm animals and coastal walks without a long drive in the car.
Self-contained campers
Auckland Council has also worked with the New Zealand Motor Caravan Association to open up parking areas for self-contained campers in many parks (that is, campers with toilet holding tanks).
Many of the parks with special SCC areas don't have other accommodation options, such as Piha, Te Arai (Pakiri), Long Bay and Cornwallis.
Wildlife
Staying in a regional park is an excellent way to get close to nature. Tawharanui, east of Matakana, and Shakespear regional parks are both open sanctuaries. Takahe and kiwi have been released at Tawharanui, as well as smaller species such as saddlebacks and North Island robin, while Shakespear benefits from avian visitors from nearby Tiritiri Matangi Island.
The Hunua Ranges in the southeast are home once again to the endangered kokako, thanks to a recovery project run by Auckland Council and the Department of Conservation. There are eight campgrounds in the Hunua ranges park, with more basic facilities such as long-drop toilets and stream water supplies.
Need to know
For information on all the Auckland Council's regional parks, including booking and availability, see regionalparks.aucklandcouncil.govt.nz.