Creativity - and novelty - within the real estate market have hit new peaks with an Australian agent offering 'free avocado on toast for a year' to sell apartments.
The unusual incentive to buy $600,000 apartments and townhouses is reportedly targeting millennials and their love of brunch, according to Daily Mail Australia.
The clever marketing campaign draws on international debate last year after an Australian demographer suggested young Aussies' love of smashed avocado on toast - at $22 a plate - should be sacrificed if they were serious about saving to buy a home.
The two and three bedroom properties, located in Brisbane's blue-ribbon suburb of Sherwood, are being offered to young professionals.
While a starting price of AU$595,000 (NZ$641,000) is hefty for many young professionals, Ray White appears to be trying to take the sting out of the cost by including free avocado on toast once a weekend at a café of choice in the area, for a year, in the sale.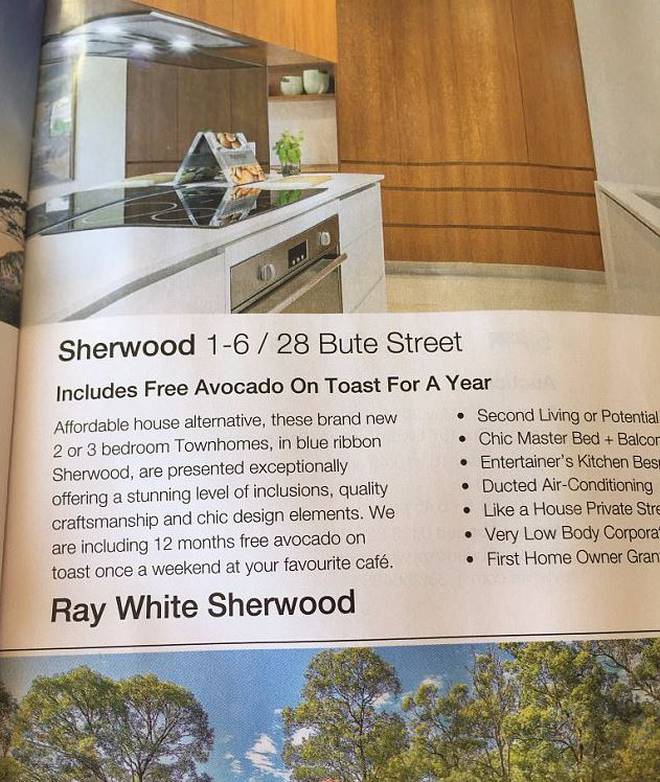 The properties are being offered as seamless indoor and outdoor living with prospective buyers told they can enjoy BBQs in their courtyards, dinner parties on their decks, watching movies in their own media room and relaxing on their own private balconies, the Daily Mail Australia has reported.
"Perfectly suited to the modern lifestyle, they are designed to make fast-paced look effortless," the listing on realestate.com states.
"These townhouses are presented exceptionally offering a stunning level of inclusions, quality craftsmanship and chic design elements for exceptional value."