Sub-tropical rain is moving in - just in time for the weekend - as the New Zealand summer takes its own holiday.
WeatherWatch said slow moving heavy rainfall, along with drizzle and dry spells, will be the menu for much of the North Island over the coming days - before they move on to the South Island.
Severe weather warnings are in place for Northland as the heavy rain spreads south to Auckland and beyond.
Heavy rain set in overnight in Northland and started dousing Auckland this morning.
By mid-morning, another band of heavy rain was fast approaching Northland, according to MetService's rain radar. The heaviest rain is expected abou the region's eastern hills.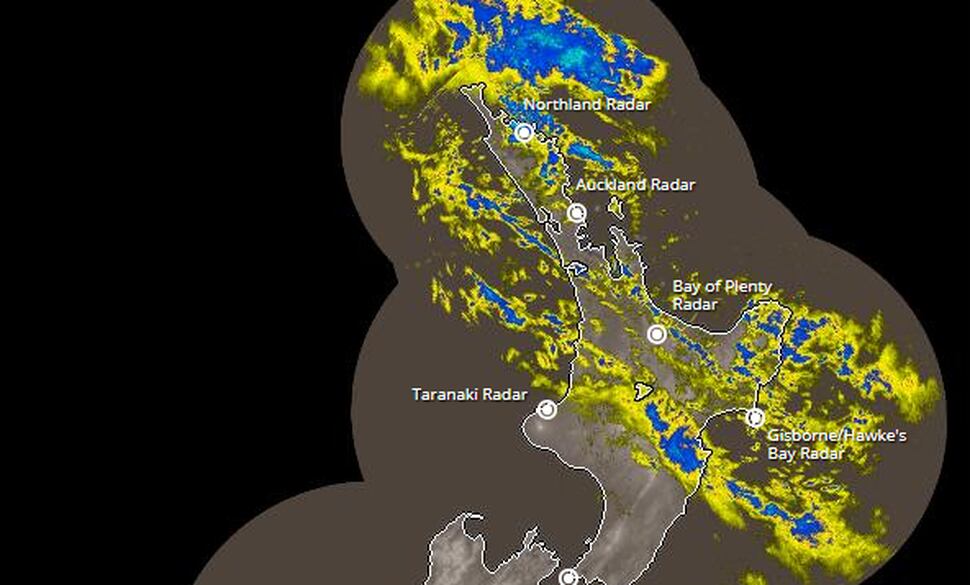 The downpour comes ahead of a potential cyclone developing around the Pacific Islands, near Samoa, which forecasters say could directly hit New Zealand.
Metservice meteorologist Josh Griffin said about 35mm of rain fell in the wettest parts of Northland overnight. The region could expect another 80mm before the severe weather warning ends at 3pm today.
Heavy rain in the area could cause streams and rivers to rise rapidly, with a risk of surface flooding and slips. Thundery downpours are also possible before mid-afternoon.
Auckland and the Coromandel are under a severe weather watch until 3pm, and the East Coast north of Tolaga Bay through to midday, with potential for heavy falls.
The wet will slowly spread south today, moving over most of the North Island.
"It is slow moving, bringing a lot of moist air down from the tropics, which means it is going to be a wet weekend for much of the North Island," Griffin said.
The South Island will be mainly sunny today, with some high cloud possible in the north and south of the island.
The wet system may reach the South Island tomorrow morning, bringing rain to the northern parts, before spreading over most of the island on Sunday, when the north and west will experience heavy rain.
Meanwhile, MetService is monitoring several systems in the tropics to determine if a tropical cyclone will form.
"There is a bit of uncertainty at this stage, but we expect to be able to make a call and officially name the system over the weekend," Griffin said.
The National Institute of Water and Atmospheric Research (Niwa) said yesterday there was a moderate chance of a cyclone forming near Samoa by Sunday.
It would be called tropical Cyclone Gita.
"Satellite imagery shows an enhanced area of rainfall and thunderstorms in the [southwest] Pacific, which is Mother Nature's way of saying 'watch this space'.
"Model guidance then shows potential tropical cyclone formation near Samoa over the next day or two."
Cyclone Fehi last week saw a state of emergency declared for Dunedin and the Buller District on the South Island's West Coast.
Felled trees and slips blocked parts of State Highway 6, stranding 115 motorists near Fox Glacier.
Another 600 tourists - some with medical issues - were stranded in Haast, blocked by a 100m long 9m high slip at Douglas Bluff south of Haast.
Today's forecast
Northland, Auckland, Waikato and Bay of Plenty:
Rain or patchy drizzle, maybe a heavy fall. Easterly winds.
Highs: 22C-25C
Western North Island (including Central North Island):
High cloud thickening and lowering, some rain possible later in the evening/overnight. East to northeasterly winds. Highs: 20C-26C
Eastern North Island: Cloudy with some drizzle, rain about Gisborne and perhaps northern Hawke's Bay with the odd heavy fall. East to northeasterly winds. Highs: 20C-23C
Wellington: Mostly sunny with some increasing high cloud, overnight may bring a light shower. East to northeasterly winds. High: 23C
Marlborough and Nelson: Mainly sunny weather with some high cloud. Afternoon easterlies for Marlborough, winds tend northerly in the afternoon about Nelson. Overnight cloud thickens and lowers bringing the risk of some patchy light rain or drizzle. Highs: 23C-24C
Canterbury: Sunny with light winds in the morning then afternoon east to northeast breezes. Highs: 23C-25C
West Coast: Mostly sunny, some high cloud possible. Warmest temperatures about inland Buller. Light winds and afternoon sea breezes. Highs: 21C-27C
Southland and Otago: Mostly sunny with some high cloud, light winds tend southerly in the afternoon. Some cloud develops in the afternoon for most, chance of a brief shower or two by evening.
Highs: 19-26
Source: weatherwatch.co.nz